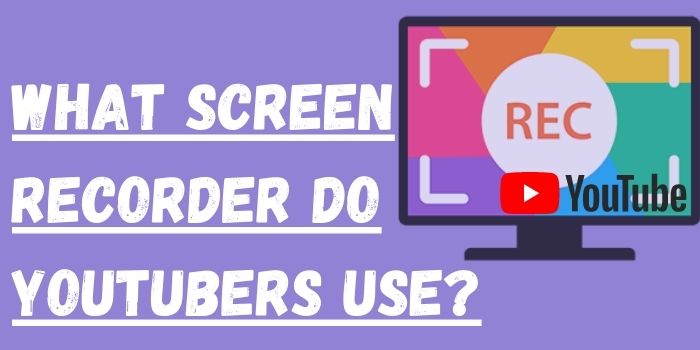 Tech
Which Screen Recorder Do Most YouTubers Use?
Choosing the best screen recording software plays an important role especially for creating a YouTube video. The right program not only helps you to make effective and dynamic videos but also helps in increasing subscribers. So whether you are making videos for teaching, tutorials regarding different issues, or gameplays, you need to make sure that your video is effective. So here we will tell you which screen recorder do most YouTubers use so that you too can make effective videos.
What Qualities Does A Screen Recording Software Should Have?
Keeping these things in mind, people search for the best video recorders according to the devices they are using for the purpose. A good screen recorder should:
Capability to capture HD videos.
Give you the option to add audio and webcam video to your screen recording
Provide you with the feature of adding other objects such as text, images, animations, etc.
Come with in-built editing tools so that you need not go to other apps to edit your videos.
Make sure that the quality of the video is not reduced after saving.
Provide you with a great speed of capturing frame rate so that your video does not break or lag.
These are the major requirements that you should look for while choosing a screen recording software.
5 Best Screen Recording Software That Is Widely Used By YouTubers
CamStudio
It is a famous free-to-use recorder that is widely used by YouTubers. People who are new to this stream use it as it provides a wide range of features with no cost at all. It lets you record your screen along with the audio and save them as AVI files. You can highlight your mouse by changing its size and color to create better illustrations. It also allows you to convert your AVI files into Flash files. You can even add text, comments, and subtitles to your videos.
Pros Of CamStudio
Free to use
Ease of accessibility
Open-source software
No cap on the recording time
Cons Of CamStudio
Creates files only in AVI or SWF format
The installation comes with other unwanted software
The size of the file created is large
More CPU resources are utilized
Wondershare Filmora
It is one of the most widely used software for screen recording because of the trust over Wondershare products. By applying the Wondershare coupon code, you can get it at a reasonable price. It comes with a wide range of features such as 4K editing, text editor, scene detection, audio equalizer, noise removal, etc. This helps the user to create 4K Ultra HD videos and then the great tools allow their editing to be done easily.
Pros Of Wondershare Filmora
Easy user interface
Help for newbies through tutorials and videos
Support through live chats
Regular updates to match with recurring needs
Great variety of effects and presets to enhance the video
 Cons Of Wondershare Filmora
Only available for Androids and iOS
The free version comes with limited features and you have to pay for the full version
Fewer features in terms of animations, titles, heading, etc.
TechSmith Camtasia
Techsmith Camtasia is easy-to-use dynamic software that can be used both on mobile devices as well as PC. It comes with great features such as annotations, transitions, magnetic track, scene transitions, etc. which, rarely any other application can provide you with. It lets you create HD videos and also add into them your webcam video, external and internal audit as well as other objects like images, text, videos, etc. The best thing is that you can grab amazing discounts on this software by using the TechSmith coupon code.
Pros Of TechSmith Camtasia
Easy to use and learn
Special features such as annotations and transitions
Highlighting of the cursor for better tutorials
Has its own library of assets and objects
In-built editing with great and helpful tools
Cons Of TechSmith Camtasia
Bugs and crashes occur often
Costly at approx. $250 for license
Lack of good keyboard commands
Creates issues while exporting the files sometimes
Screencast-O-Matic
It is a great app for making YouTube videos and is widely used by teachers and professors for creating study-related videos. It allows them to add screenshots into the video to make explaining even easier. You can add your video and sound along with the sound and video of the screen recording. It also comes with its own library of objects that can be added to make the video even more effective.
Pros Of Screencast-O-Matic
Easy to use the app with great response
Helps create amazing quality videos
In-built editing with great tools
Free to use
Cons Of Screencast-O-Matic
The difficult procedure of navigation
The trouble caused without the presence of Java on your device
Some features are available only in the paid version
OBS Studio
It is one of the most professionally used software for making videos and recording screens. This software is also considered one of the potential Camtasia alternatives. It allows users to directly broadcast videos and has a very clean and easy user interface. You can adjust the quality of the videos according to your needs. Its audio mixture helps you add amazing sound effects to your video and audio. It is used widely by professionals to make HD videos for uploading on YouTube and other sites.
Pros Of OBS Studio
It provides the user with many resolution settings
Helps to live telecast videos for free on Facebook and YouTube
Frequently updated
Allows for customization of backgrounds
Free to use
Cons Of OBS Studio
Slow and lagging commands sometimes
Sometimes working is abrupt as the stop button does not work
Irritating process of installing plugins
We have read about the famous apps that most Youtubers use, their pros, cons, and features. All these software that we have mentioned here are legitimate. You can use any one of them without any worry.