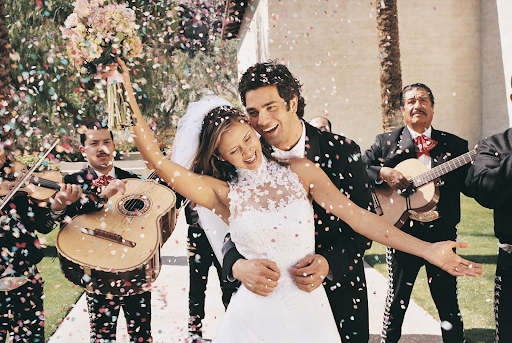 Did you know that around 2 million people get married each year in the U.S? While planning a wedding can be stressful, the happiness it brings the new couple is worth it.
To plan a wedding, the bride and groom must choose a venue, hire a caterer, and send out invitations. If you receive one of those invitations, you get to celebrate a significant event in someone's life.
Because weddings are a big deal, you should be a good guest. Are you wondering how to be the best wedding guest? If so, keep reading to help ease your wedding guest anxiety.
RSVP on Time
If you want to be a good wedding guest, the first step is to RSVP on time. When you receive a wedding invitation, it should include the wedding date, how many people you can bring, and when to RSVP.
Most people send invitations weeks or months in advance, so you have plenty of time to respond. It's best if you can respond as soon as you get the invitation so that you don't forget to do it later.
RSVPing to a wedding is important so that the planner knows how many tables and chairs to set up. It also allows the catering company to plan the meals.
Don't Be Late
Another of the biggest wedding rules for guests is to show up on time. Many people assume that the bride will be late for the wedding, so they don't show up on time.
If you are traveling out of town for a wedding, choose a flight that gives you plenty of time to make it. Ideally, you should be at the wedding 30 minutes before it starts.
If you do happen to show up late, don't enter the ceremony space while the wedding is going on. This will distract the wedding party and guests.
Don't Bring Extra People
When you receive your wedding invitation, it should tell you who is invited. If the wedding invitation only has your name, don't assume it is okay to bring your significant other or children.
Couples spend lots of time on the guest list, and they may not have space for additional people. If you want to bring someone with you, ask the couple if you can bring a plus-one if someone else on the list can't make it.
If you show up with an extra person, it will add stress to the couple, there may not be anywhere for them to sit, and there might not be enough food.
Send Wedding Gifts
Are you wondering what to bring to a wedding? Before you bring gifts to a wedding, make sure that is what the bride and groom want.
While some traditional weddings have a gift table, other couples prefer you to mail wedding gifts. Weddings are already stressful, and many couples don't want to worry about toting gifts home.
If the couple has a wedding registry, use that to choose the perfect gift. Most stores let you ship the gift directly to the couple's house.
Follow the Dress Code
Before choosing an outfit to wear to the wedding, ask about the wedding dress code. While some weddings are casual, others are formal and require cocktail dresses and suits.
The wedding invite should tell you how to dress, but you also can get inspiration from the wedding venue. For an outdoor wedding, make sure you choose appropriate attire for the time of year.
If the wedding is in Fall or Spring, it's a good idea to bring a sweater or jacket. You also may want to avoid wearing high heels to an outdoor wedding.
As a general rule of thumb, never wear white to a wedding. The color white is normally reserved for the bride. If you wear white, you might take the attention away from her.
Are you part of the bridal party? If so, the bride will probably ask you to wear specific bridesmaid dresses.
Don't Bring Negative Energy
Did you get into an argument with your husband in the car? Are you frustrated from a bad week at work? If so, leave the negative energy at the door.
Even if you see family members you haven't seen in a long time, a wedding is not the place to confront them about past wrongdoings. Weddings are a time for happiness and celebrating the people getting married.
It's also a good idea to avoid sharing major news at a wedding. Even if you are pregnant or got a new job, you don't want to take the attention away from the couple getting married.
Limit Alcohol
Did you know that drinking more than two alcoholic beverages can have a major impact on judgment? Most weddings have alcohol, and it's okay to drink alcohol in moderation while at a wedding.
While a couple of drinks may allow you to relax and have fun, you should avoid getting drunk at a wedding. If you drink too much, you may end up negatively impacting the wedding or getting sick.
If you choose to drink at a wedding, make sure you don't drive home when the wedding is over. Choosing a designated driver before the wedding will allow you to get home safely.
Don't Take Too Many Pictures
While it may be tempting to take pictures at a wedding, try to avoid taking too many. More than likely, the couple hired a professional photographer to take photos.
Instead of taking pictures during the wedding ceremony, enjoy the moment. The couple would rather see faces in the crowd instead of cell phones.
If you do take pictures during the wedding, avoid posting them on social media until the couple gets the chance to upload their photos.
Are You Ready to Be a Great Wedding Guest?
For many people, weddings are a once-in-a-lifetime event they will remember forever. If you get invited to someone's wedding, make sure you RSVP on time, don't be late, and follow the dress code.
Was this article on being a great wedding guest helpful? If so, check out the lifestyle category to learn more about attending a wedding.