Lifestyle
A 5-Step Guide to The Best Baby Bath Experience
Welcoming a baby to your life also brings in a nice blend of beautiful emotions- and they only become better with his touch and feel. Being a mother, you would always want to reciprocate the feeling by giving him (or her) the most tender and caring experience. However, being a new mom comes with its hurdles and challenges too. You could be looking for answers about how to feed your baby, how to set his sleep cycle, or how to give them a nice baby bath. Here is some qualified advice from the experts.
Bathing is an amazing experience if you know how to do it the right way. It is so because if done correctly, a baby bath makes the whole experience enjoyable for your little one. It also develops a good habit of maintaining hygienic practices at an early stage and makes you more responsive to your newborn's requirements.
Now you may have several queries revolving around this concept. Some of the most common ones can be:
"Is it okay to give a bathe my baby every day?"
"What soap or shampoo should I use on my baby's delicate skin?"
"Can I use the normal daily soap on my baby?"
"What if my baby doesn't like the bathing experience at all?"
The list of such questions is endless, and we know that your unsaid questions are always counted in. We are all somewhere new in everything occasionally, and parenting is one of them. For example, deciding what baby care products will be the best is always important. This task may become difficult because there are too many choices, and you would always want the best for your kid.
Opting for a baby care product that's free of harmful chemicals and toxins
This is where Mamaearth becomes your confidante for a lifetime. The products offered are diverse, ranging from baby products to body care ones, manufactured with natural and nature-derived ingredients and are completely toxin-free. It is Asia's first brand to be awarded the MadeSafe certification. It promotes the goodness of nature by planting a tree for every order it accepts online.
A 5-Step Guide to Give the Best Baby Bath
It is now time for some splashy fun! Mamaearth comes with this whole diverse range of baby products that help you follow a step-by-step routine to give your baby a nice bath that is not just fun but also nourishing! So, let's look at them all and help you give a baby bath that is a memorable experience for you and your kid:
Step 1 – Massage and moisturize
Did you hear a lot of grandma's advice saying, "Massage your baby before a bath? It will strengthen its bones and muscles faster"? Yes, a nice massage helps strengthen your baby's muscles and bones, and gently nourishes the skin. Mamaearth Soothing Massage Oil comes enriched with the natural goodness of Sesame, Almond, Jojoba, and Coconut oils to nourish your baby's tender skin gently.
Sesame Oil is rich in Zinc that improves your baby's skin elasticity and smoothness. It also shields your baby's skin from the sun's harmful UV rays, thus preventing sun damage. Almond Oil moisturizes the baby's skin deeply, while Jojoba Oil reduces irritation and itchiness. Finally, coconut oil hydrates the skin and thus combats dryness and flaky skin in a hassle-free manner. This oil is mild and safe to use daily and thus, makes massaging with it can nourish the baby's tender skin in a better way.
Step 2 – Bath and Bubbles
It is time to get all soapy and foamy! Mamaearth Deeply Nourishing Body Wash for Babies is ideal for giving a nice baby bath to your kid. It comes enriched with the natural goodness of Coconut, Jojoba, Orange Essential Oils, and Aloe Vera to give your baby a tear-free bath every single time!
This body wash is enriched with coconut oil that reduces irritation and inflammation on your baby's delicate skin. It also provides intense hydration, locks moisture, and prevents dryness. It is also rich in Vitamin C extracts that help protect and heal your baby's skin with its antiseptic and anti-inflammatory properties.
Jojoba Oil nourishes your baby's skin with Vitamin E, Zinc, Vitamin B-Complex, Copper, Chromium, and Iodine. The aloe vera extracts moisturize the baby's tender skin gently. Crafted with a tear-free formula, this baby care product deeply nourishes your baby's skin, balances the skin's pH, and gently cleanses your baby's skin to make it shinier and radiant.
Step 3 – Shampoo & Shine!
It is always important to start with the body when bathing your baby. First, your baby needs to get used to the temperature of the water – be it lukewarm or cold before you wet the head of your baby. You should then use Mamaearth Gentle Cleansing Shampoo to clean the baby's scalp of dirt, grime, and excess oils.
Enriched with Coconut, Jojoba Oil, Calendula extracts, and Aloe Vera, it comes with a tear-free formula that maintains gently removes grime from your baby's scalp. So, make sure your baby bath always includes good shampooing and soapy fun for your munchkin!
Step 4 – Oil & Outstanding!
A nice champi from your mom still feels calming and refreshing- then why won't your baby love it? Hair oiling and massaging calm down your baby. Mamaearth Nourishing Hair Oil for Babies is a must-have to give the best baby bath experience.
Comprising Almond Oil, Avocado Oil, and Coconut Oil, this baby oil nourishes your baby's hair and scalp and strengthens the hair roots and follicles, its regular application would also improve your newborn's hair texture naturally by offering an adequate number of vitamins and minerals directly to his tender skin.
Step 5: Lotion & Loving!
Moisturization is a big step in the baby bath guide. However, Mamaearth Milky Soft Baby Lotion becomes easier to manage. Enriched with the goodness of Milk Protein, Oats, Shea Butter, and Calendula extracts, it helps in gently moisturizing your baby's skin with Vitamin E and essential amino acids, making the skin soft and supple by locking in moisture and providing 24-hour moisturization that keeps dry and itchy skin at bay.
We would also recommend you use Mamaearth Milky Soft Face Cream for moisturizing your baby's facial skin with gentle care, thus making your little friend ready for a new and adventurous day!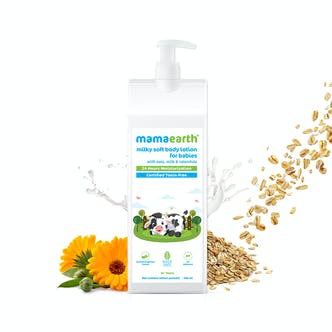 Summing up
We know that you must be doing your best. Being a new parent brings a lot of excitement and anxiety, but you can always improve the experience by using gentle and toxin-free baby products for the best results. With the right approach, parenthood would become a wonderful, memorable, and enjoyable experience. So, happy parenting to you with all the best wishes and love!