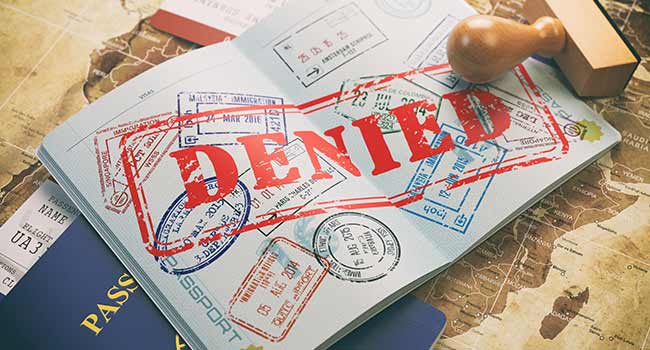 Law
What will happen if you fail to get L1 Visa on your first try?
Of course, in every application you do, you hope that you will pass or get approval from it. It isn't delightful to know that you failed even though you have completed all the documents required and even followed the proper instructions. What is more infuriating is to see that you have wasted your time to get nothing.
This goes the same with your L1 visa application. If you get denied, it kinds of mess up your plan and your company's goals as well. In that sense, do not lose hope if you face a heartbreaking denial. Use the failure you have experienced to gather enough information on getting approval.
In this sense, use this L1 visa guide on what to do if you fail to get approval in getting an L1 visa.
Reasons for denial
It is essential to know where you get wrong. In that sense, you and your immigration lawyer can fix it right away. The following are the common grounds for L1 visa application denial:
Eligibility Requirements are not met.
They will inform you about the requirements to get the L1 visa during the application process. One thing is that the company must be doing business or engaging in the United States of America and another country for a year. Or they depend on the years of stay of the L1 visa applicant.
USCIS highly emphasized that doing business does not mean just having an office in the United States of America. The company should have been engaging in the US for quite some time. That also means that the USA office should be part of the operations. That will be for all the other branches or subsidiaries anywhere globally.
Another one is for the executives and managerial positions. They should have the ability to decide for the company's betterment without relying too much on the top organization's judgment. It is stated that their post should hire and fire employees and make crucial decisions on a massive range with little to no supervision.
They can test this during the interview. The immigration officer will site some scenarios, and you should be able to answer based on the position that you are holding. If the immigration officer notices your incapability, that will be one reason for the denial.
Specialized knowledge is not established.
L1-B visa is given to employees with skills or knowledge that you cannot pass down immediately to other employees. One thing, for example, is in the cooking industry. If the site is expanding to Indian Cuisine, it is just right to send someone that knows the authenticity of the flavors by heart—reading it by the book won't help that much in familiarizing with the flavors.
If the immigration officer notices that you can provide your skill or knowledge via virtual meetings or other platforms that do not require you to go right away to the USA, they will deny the application.
Structure of the Salary
Your salary will be one of the factors whether to deny or approve your application. Your employer will provide this, but you need to justify how it will support your living in the US. Your salary should be enough or sufficient for your daily living in the US. If they sense that it will not be enough in your lifestyle, they will deny it.
Another reason is the fault of the employer. If the salary structure and the business growth show too good to be true, the immigration officer will be doubtful, leading to an automatic denial or asking for additional documents. That is to support the business growth presented and prove its operation and profitability.
L1 visa extension denial
Even your L1 visa is subject to denial even if you have completed your stay. That is if you have not met just two essential requirements. The first one is you must stay employed along with your visit. At the same time, the second one is to have no changes in your salary or position. If these changes are unavoidable, seek help from an immigration lawyer to get the best solution.
What to do if I fail?
If your employer is in a hurry to send you over to the USA, you can seek help from an immigration officer about applying for a different type of visa instead. H-1B visa matches as well, and it has less strict requirements than an L1 visa.
Another thing to do is appeal your L1 visa denial in the Administrative Appeals Office. Usually, this process takes around six months and does not guarantee approval. It is better to ask your immigration lawyer which solution suits your background for faster support.
Conclusion
Delays and denials are some of the problems that mess up someone's plan. That is why most businesses succeed; they know how to mitigate them. But there are some instances that there are blind spots, and you will just be surprised.
In that sense, seeking help from an immigration lawyer who is a professional in this field is crucial. We hope that this has helped you in your visa journey.