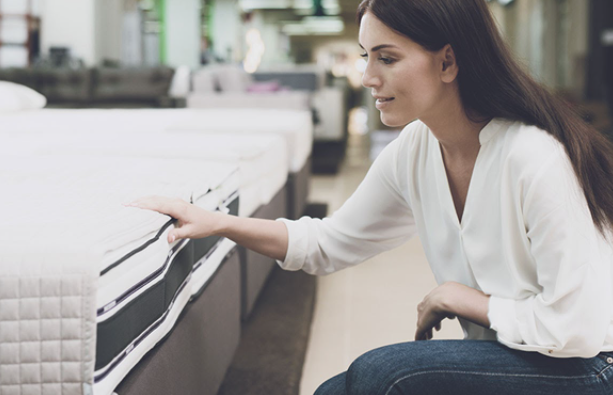 A good night's sleep is as important as eating healthy and exercising. Getting enough sleep is essential for optimal health and well-being. However, many factors can interfere with natural sleep patterns. It includes a poor-quality mattress that doesn't provide enough support to your neck and back. So, it is vital to pay attention when you buy a spring mattress online.
Spring mattresses consist of several metal coils suspended throughout the mattress to provide support to your back. These coils are covered with a foam layer and high-quality upholstery material to enhance comfort.
However, purchasing a mattress is not an everyday task. And with endless numbers of spring mattresses available in the market, it is obvious to get confused and decide which mattress is ideal for you. In order to help you choose the best spring mattress in India, here we will share a few factors you should keep in mind when buying a spring mattress.
Things to consider when buying a spring mattress
Type of coil: Before you go ahead, it is vital to decide which coil type is present in your potential mattress and can it provide adequate support to your body or not. Manufacturers use four different types of coils in spring mattresses, including:
Marshall coil: Marshall coil or pocket springs have a barrel-like shape and a thin gauge. In the pocket spring mattress, the springs are not connected to each other, and each coil works independently. So, if you move tosses and turn too much while sleeping, or you love to sleep on your stomach, this mattress is ideal for you.
Bonnell coil: Bonnell coils have a spiral shape and are thinner in the middle and thicker toward the ends. In contrast to pocket spring mattresses, the coils are connected to each other. These mattresses are usually less expensive and offer great ventilation. As a result, it keeps your body temperature stable.
Offset coil: Offset coils are packed individually. As a result, it makes the mattress conform to the contours of your body. These mattresses are known for their durability and are ideal for those who have joint and back pain issues. Also, the structure of these mattresses evenly transfers your body weight across the mattress.
Continuous coil: In this type of mattress, multiple coils are made up of a long wire. These coils are connected using helical lacing. As a result, these mattresses are ideal for heavy-weight individuals. The lacing improves the lifespan of the mattress and aids in motion transfer.
A number of springs: A cheap spring mattress has around 600 springs, whereas a good quality mattress has 1000+ springs. As a thumb rule, the more the number of springs, the more they can adapt to your body shape and weight. So, it is vital to check how many springs are present in the mattress to ensure that you have a more restful night and less sleep disturbance. 
Firmness: The thickness of wire used for the coils, known as coil gauge, affects the firmness of the mattress. Most manufacturers rate the mattress, depending upon the firmness, ranging from 1 to 10. Here 1 ranking is given to the softest mattress, and 10 number is given to the firmest mattress. However, you should choose a mattress that falls between 4 to 8.
The Bottom Line
A mattress is an important investment that decides your sleep quality and the health of your spine. So, it is vital to do some research and take some time to buy the spring mattress online. We hope that this guide will help you choose the right mattress.
All the Best!