Lifestyle
The Only Guide You Need to Style Your New Shades
Let's make a bold fashion symbol with shades. While sunglasses are generally used to shield the eyes from the sun's harmful rays and other particles that may enter the eyes, they are most commonly used to modify your appearance and make a wonderful fashion statement on a bright, sunny day.
Choosing fashionable eyewear may appear simple, but finding the appropriate pair of sunglasses for your facial shape, hair color, and skin tone, as well as matching them to your outfit, is not always quite as simple!
It's all too easy to choose the wrong shape, color, or design and wind up with a pair that doesn't quite fit your face or style. This is why it's crucial to know what to look for when purchasing the ideal pair of sunglasses for you. And once you find that dream pair, we are here with the ultimate guide on how you can style your new shades!
WHAT'S THE OCCASION?
Is it a casual brunch?
When wearing casual or semi-casual clothing, avoid matching the color of your polarised shades to the color of your outfit. It will give your overall appearance a very bland appearance. Whenever possible, choose black or other dark colors. You can try Titan's intriguing classic navigators, which will give you a calm yet stylish look.
Is it a day wedding?
The year's most popular style is round, and it's every fashionista's favorite this season. So pair your colorful and vibrant Indian clothing with these circular shades for a day wedding to show off your style. We are confident that it will add a touch of luxury to complete your ensemble.
Is it a date?
Want to seem smart and sophisticated this weekend as you head out for your date? Then go for a stylish pair of Titan sporty navigators. These polarised sunglasses will modify your look and bring out your best features. Depending on your unique style, you can choose from flashy lenses to subtle colors. Its magnesium alloy body and cool geometric designs bring out the beauty in every detail, ensuring that it attracts attention.
Is it an office meeting?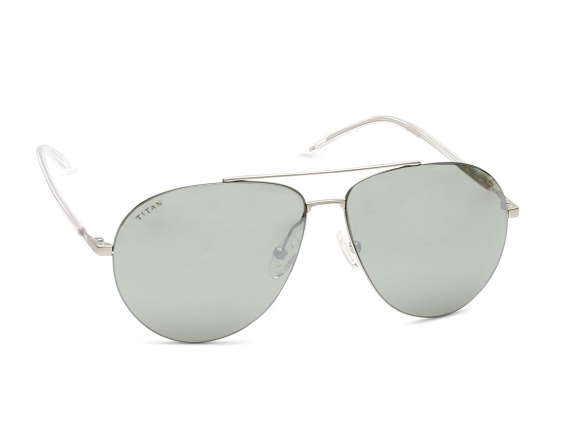 Finding the right sunglasses for a formal affair might be difficult. That is why a classic aviator is a way to go. They will elevate your appearance by adding a refined touch. All you have to do now is pick the proper style and color for the occasion.
Is it 'shopping with your mom' day?
Shopping can be exhausting, especially in the sun. That's why you should always have your square clubmaster polarised shades with you. They'll make sure you're comfy while also looking stylish for the occasion. The best thing about these Titan sunglasses is that they go with just about anything. So you only have to worry about your shopping.
RULES TO STYLE YOUR NEW SHADES
1. Prioritize your comfort
One of your key concerns when purchasing shades should be how they feel on your face. Do they make you feel comfortable? Your glasses must fit correctly and while giving your face a better look.
Sunglasses should ideally fit tight to your face and have large enough frames to prevent light from wandering into your vision at the top and sides. Examine the temple arms' material closely (the part that goes over your ears). Silicone and molded acetate, for example, will be far more comfortable than stiff plastic.
2. Consider your requirements
Consider why you're looking for a new pair of glasses and what you'll be doing with them. Is it just for fashion? Or is it a necessity? Do you need them for your job? Or are they just for the sake of accessorizing your outfit? Keeping your inspiration in mind for wearing sunglasses will help you find the perfect pair.
A simple pair of wayfarers, aviators, or browlines will work well for someone seeking an all-purpose pair of sunglasses. Those with a fashion bent should pick classic types such as
3. Choose a pair that flatters your features
Try on a variety of looks to see how they look on your face. While the best pair of shades is the one you like best, they'll all frame your face differently, so once your practical requirements are completed, go with what looks best on you.
Finally, choose what you think looks good. You can browse through eyewear retailers' websites like Titan Eyeplus to shop for branded and best quality shades out there!