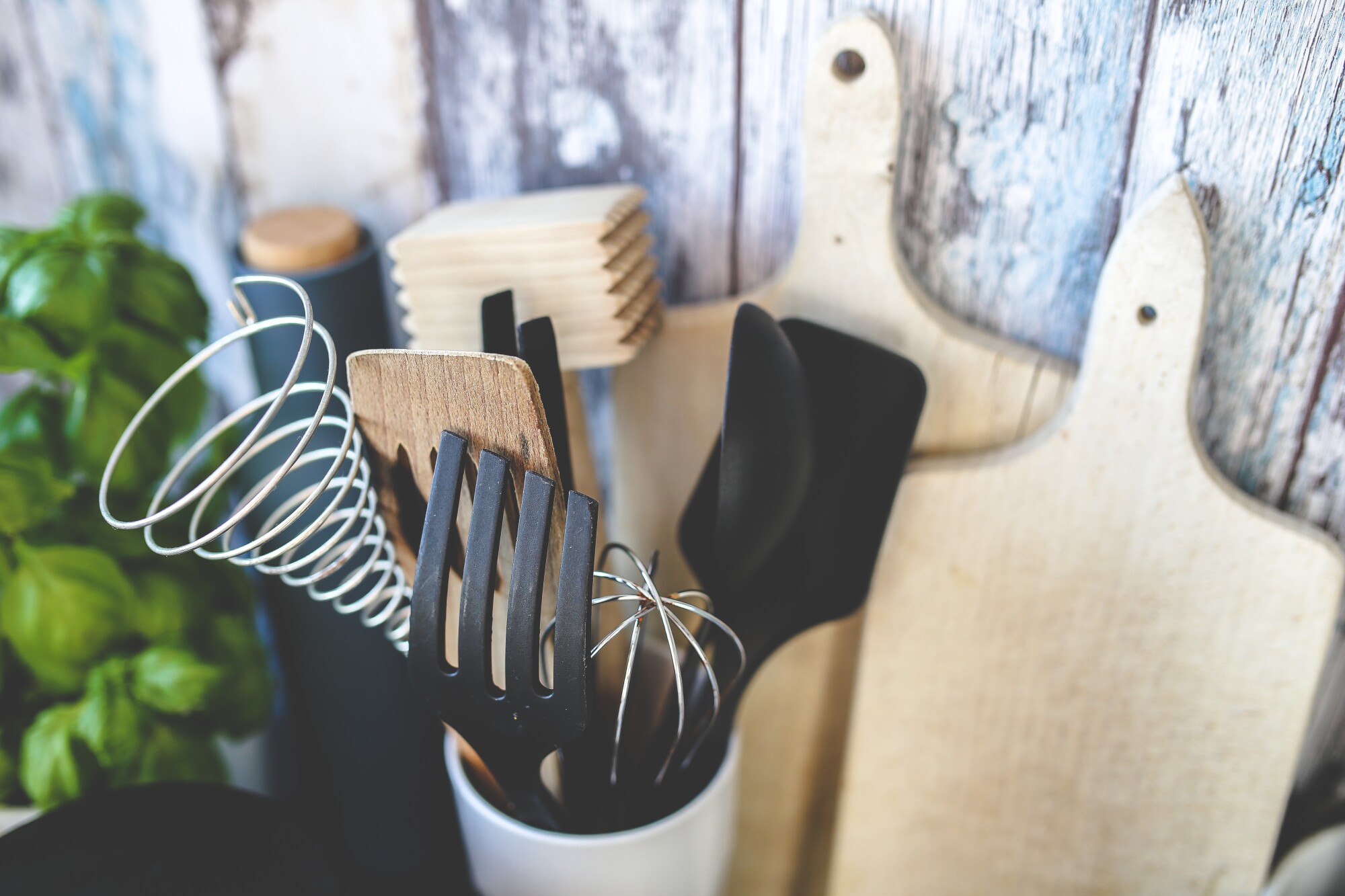 Have you ever looked around your grandmother's kitchen? She likely has a kitchen accessory for just about everything. An egg slicer, a salad spinner, a garlic chopper, those weird handheld meat shredders that look like plastic wolverine claws…
If you absolutely love to cook, amassing such a collection can be both fun and worthwhile. But if you're just starting out (and since we're talking about your first kitchen, let's assume you are), you don't need everything right away.
So what do you need? Which accessories truly fall under the category of kitchen essentials?
If the endless supply of gadgets on the Food Network is enough to make your head spin, you've come to the right place. To learn which kitchen accessories are must-haves for your first kitchen, just keep reading!
Prep Essentials
First, let's talk about food prep essentials. Because no matter what you're attempting to cook, you can't get far with any recipe without them.
These aren't the tools that you use to cook your meals, but rather the tools that allow you to prepare the food to be cooked. Here's what you need:
A Quality Knife Set
The very first thing you invest in for your kitchen should be a set of sharp knives. Don't buy a set of cheap knives and call it a day. A good knife set will last you a lifetime!
There are tons of different types of knives, designed for performing the most specific of tasks, but you only need to worry about the main three to get started. These are a chef's knife, a paring knife, and a serrated bread knife.
Your knife set should also come with a honing rod and a knife sharpener.
Measuring Cups and Spoons
Next up are your measuring cups and spoons. Again, these can be found in even the most obscure measurements – don't worry about having them all. You're not going to use that eighth of a teaspoon very often.
Look for a set of measuring cups that ranges from 1/4 cup to 1 cup, and measuring spoons ranging from 1/4 teaspoon to 1 tablespoon. Bonus points if they're stackable!
Mixing Bowls
Mixing bowls are a must-have, and though you can find them in a variety of materials, we recommend glass or metal.
Plastic mixing bowls are slightly less expensive; however, they absorb stains and odors, which can affect future dishes. No one wants a meringue that tastes like onions!
As long as you have one high-quality, large mixing bowl, you're good to go. But it doesn't hurt to have small and medium bowls as well.
Miscellaneous Extras
There are a few extras that are good to have on hand for most recipes. These are as follows:
A cutting board (plastic or wood)
Can opener
Colander
Vegetable peeler
Whisk
There are other useful extras for meal prep, such as a grater and a potato masher, but the five items listed above should come first.
Cookware and Bakeware
Moving on to the tools you need to cook the food once you've prepped it. Though there are pots and pans of all shapes and sizes, only a handful can be considered kitchen essentials. These are:
Skillet (stainless steel)
Saute pan
Medium saucepan
Large pot
Baking sheet
Muffin tin
Casserole dish
To make things easier, many brands offer a cookware set that comes with all, or at least most, of the items listed above. You can save both time and money with this route, just be sure to choose a quality brand.
Tools and Utensils
There are a few tools left that don't quite fall under either the cooking or prepping category but that are important for any home chef to have. If this list is starting to feel a little long, don't worry, there aren't many tools left!
The last tools you need to fill out your kitchen essentials are:
A heat-proof spatula
Stirring spoon
Slotted spoon
Oven mitts
Tongs
With these tools on hand, you should be able to cook just about any dish. You might have to get creative now and then, but there's nothing wrong with using a stirring spoon as a ladle until you can increase your collection of kitchen accessories.
Appliances
Last but not least, let's go over a couple of appliances that will make your life easier in the kitchen. A blender, a kitchen scale, and a griddle will make a world of difference in your cooking adventures.
A basic blender will do, but if you can get one with a few different attachments (food processor, blender, chopper), you can do even more with one accessory.
Your kitchen scale is useful for getting precise measurements of ingredients. Most are capable of providing both imperial and metric units, allowing you to prepare recipes from all over the world with ease.
A griddle is essentially a giant cooktop. So instead of using a pot on a single burner, you can put the food directly on the griddle and typically cook more at once. These are great for everything from breakfast to burgers and steaks – get the details from Own the Grill!
Don't forget to grab a few storage containers, dish towels, and a box of aluminum foil and parchment paper too!
Take Your Time Building Your Kitchen Accessory Collection
Even if you fall in love with cooking, there's no need to buy every kitchen accessory available right then and there. Like any collection, it's better to take your time!
In doing so, you can ensure that the accessories you buy are ones you'll actually use instead of making impulse purchases that collect dust in your cabinets.
Because, sure, that sushi bazooka came in handy that one time you made California rolls, but are you really ever going to use it again?
Looking for more tips for turning your first home into your dream home? Be sure to check out our blog!