Greece is a beautiful country with plenty of character. Whether you want a city break or a beach holiday, Greece can cater to all your needs. So, do yourself a favor and book your next holiday in Hellenic land, here is why and what you will gain.
Recovery from the financial crisis is still in progress in Greece. Despite some signs of their economic hardship, it has no impact on their proud ways of life. Instead, they make the most of each day – their joyful and proud characters remaining intact.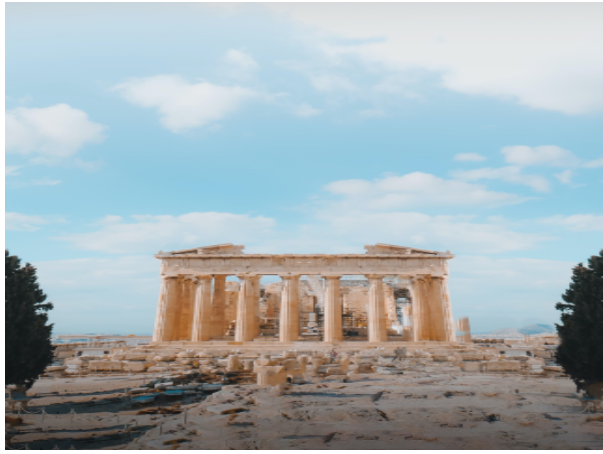 Family values are one of the most important features of Greek life, closely followed by hospitality and a rebellious, independent spirit. Hardships and a weak welfare system leave no choice to Greeks but to rely on their families and social groups for support.
It is the simple things that Greeks retreat to for pleasure. Their entertainment spending is cut short, but that doesn't stop them from enjoying themselves. Their vibrant social life is mostly taking place in the public sphere, gathering on squares and in coffee houses.
While most western ways of living are focused on living to work, Greeks work to live. When struggling with a high workload or even burnout, stop for a minute and take a look to the east and observe this magical sunny place called Greece. It will be worth it.
Greece The Ultimate Destination
Greece being a large country, the opportunities are endless if you are in for a new adventure. Even if you just close your eyes and pick a destination blindly, you will be rewarded for your bravery.
The capital city is a great place to explore Greek culture, history, and nightlife.
The high density and narrow streets create a cozy urban atmosphere. While you immerse yourself in al-fresco dining on the pavement, you can observe the scenes of Greek daily life. Scooters speeding by, tourists bargaining with a shopkeeper, elderly men enthusiastically engage in a debate, and a couple enjoying their time looking lovingly at each other.
However, this country of wonders offers crystal clear beaches and scenic hiking trails for the nature lovers. You can choose to retreat in a holiday cottage in rural Corfu for active relaxation and you will be surrounded by olive and fruit trees.
Athens
The Greek capital city Athens has so much to offer from the ancient sites to delicious food and bustling markets.
It is said that Athens is a city that you must see at least once in your lifetime. This is said for a good reason. It is a delicious city, literally. You will be happily eating breakfast, lunch and dinner, and won't forget about the snack times (but more on the food later).
The nation has a deep-rooted connection with its history. The battles, celebrations, and cultural venues have been preserved in the form of several iconic monuments across the country.
When you pay a visit to Athens, the number one attraction is the Acropolis. It is built on top of a hill; the citadel comprises ruins of several historic buildings including the Parthenon.
The most magical time to visit it is either sunrise or sunset. Thankfully, the long opening times offer the flexibility to choose when you want to go.
The view from the Acropolis is a great reward after climbing the 150 meters tall hill.
The great feature of the Acropolis, this majestic ancient castle, is that it appears in your sight sometimes in the most unexpected moments.
Athens is a dense but architecturally lower city, meaning that the majority of buildings are built to up to four stories. The average elevation is approximately 70 meters. The combination of low-rise buildings and low elevation makes it easy to spot the Acropolis from many different places.
It is also a great experience to pitch up in a rooftop bar (good news, there are many in Athens) during sunset. Choose a spot where the Acropolis is in good view, enjoy the cotton-candy colored horizon, and celebrate the day with a drink.
Athens is also home to a growing group of digital nomads. The mild climate, affordable living expenses, and rich cultural scene are attractive features as a base for a few weeks or months while working remotely.
Whether you are a full-time digital nomad working on the road, or just catching up on your email as you pass through the city, you will also find some great cafes with big tables and speed internet in Athens.
Once you finish researching available environmental and sustainability jobs at your local café, you can move on to a trendy wine bar. Enjoy a conversation with a lively crowd of fellow workers.
Recreation
Outside the bustling city, you will find endless options to spend time. Go explore the Greek islands, jump into the sea in Corfu, watch the sunset in Santorini, go hiking in the Pindus Mountains, or hit up a trail.
With 80% of the country's terrain being mountainous, it makes Greece one of the hilliest countries in Europe. The natural gems of the country are hidden in the woodlands. The views from mountain tops will also take your breath away.
At the same time, the coastline is around 16000km long. Almost half of it belongs to the islands. This makes the country a great beach destination too. Just grab your swimsuit and jump on a ferry and enjoy the sunshine and warm water.
Active relaxation is important to maintain our well-being. It is something we should all learn from the Greeks. Whenever they can they flock to the beaches, and summer holidays in their ancestral villages are the highlight of the year.
Food
Greek cuisine is famous for its whole and healthy foods, delicious dishes, and wine. Most dishes can be found across the country, but there are hundreds more you can only find locally. Every grandmother is proud of their secret ingredients, and they won't tell you why the moussaka is the best you ever had.
Greece is a great place for vegetarians too. Most mezze dishes such as eggplant stew, fava (bean puree), kolokithokeftedes (fried zucchini and feta balls) are all veggie dishes.
The ingredients are grown locally, or at least nationally, as the sunny climate enables farmers to produce all year round.
Locally sourced food is one of the greatest benefits of Greece, although the hilly topography poses some restrictions on growing crops.
Despite the smaller budgets, food is not something people in Greece compromise on. The dishes are made of simple ingredients, but they still taste delicious.
Many products are a characteristic of Greece, such as feta cheese, virgin olive oil from Crete, capper from Santorini, citrus fruits from Peloponnese. Honey, wine, and spices are also produced in the country.
Your Greek Holiday
If this teaser about the Greek lifestyle convinced you to explore the treasures yourself, take a break from self assessment examples for work, and book your next holiday.
The mild climate and the long sunny hours allow you to enjoy more time outside.
Despite the Greek's lower living standers, it is exemplary how living a happy-go-lucky life is something they master at. Learn how they take pride in everything Greek.
Enjoying the small gifts in life is a phenomenon that we should learn too, in order to live a full and happier life.