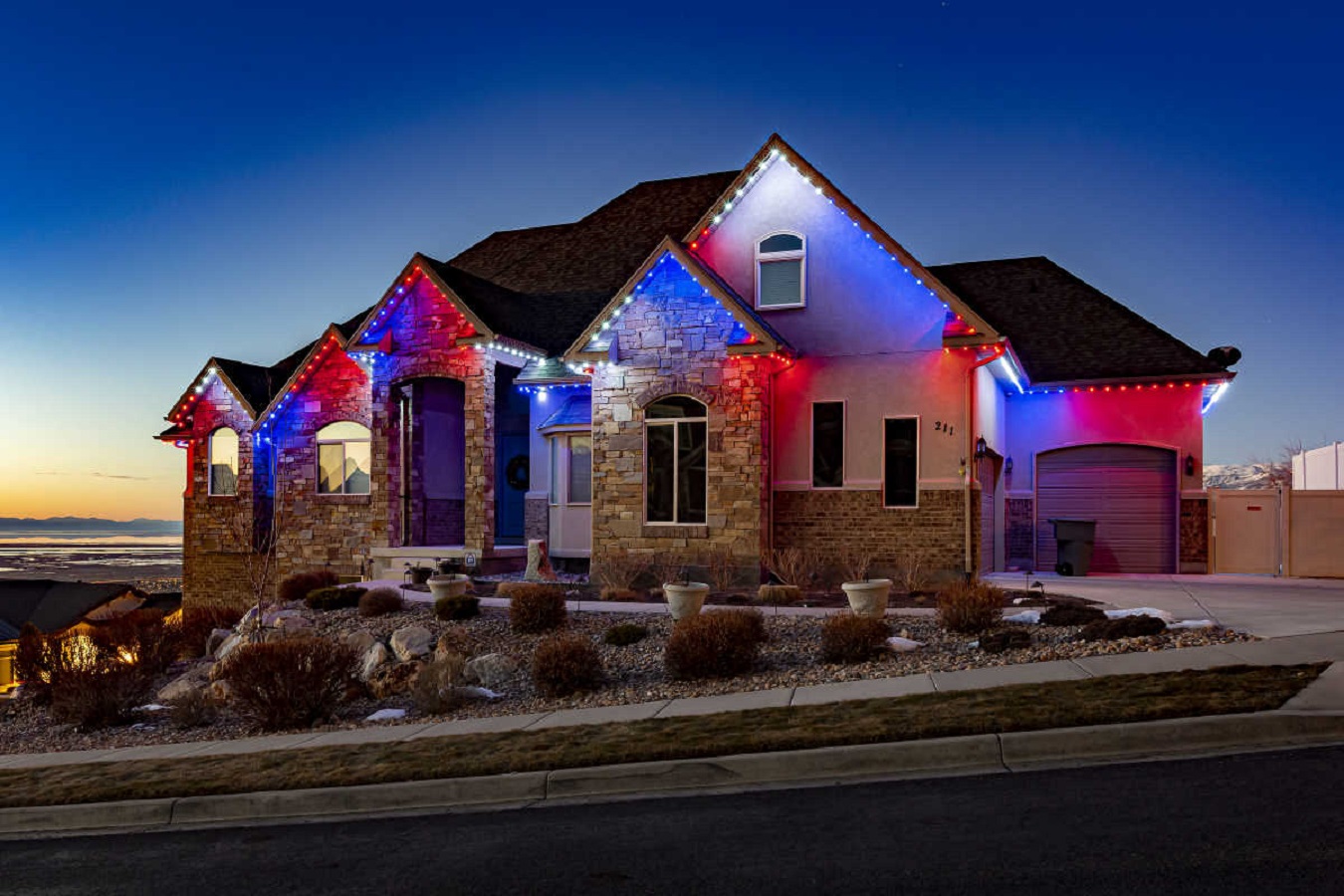 Christmas, and the excitement it brings, is starting to appear on the horizon. It won't be long until homes are decorated for the holidays, young children anticipate a visit from Santa Claus, and families come together for a delicious meal. There is something truly special about the holiday season and one of the most important touches is outdoor Christmas lighting.
Christmas lights help bring the magic and excitement of the season to life, turning homes into wonderlands that spread good tidings and joy. If you are planning to transform your property this Christmas season, this blog post is for you. Here, we will share essential ideas for outdoor Christmas lights that are guaranteed to turn heads!
Christmas Lights on the Roof
Roofs play an essential, yet often overlooked, role within our homes. Outside of the structural support and protection from the elements, they are also an excellent place to install Christmas lights. This is because roofs are large, highly visible, and unused spaces.
The amount of space that roofs offer also allows homeowners to get creative with their Christmas light installation plans. One such option is to have a written message posted using LED lights on your roof. For example, it could say "Happy Christmas" or "Happy New Year".
Lights can also be installed around the border of your roof, either in one solid color or in a multi-colored package. Icicle lights are another great option. These can be hung from the edge of the roof to give a very festive appearance to your home.
When installing Christmas lights outdoors, safety should always be the first consideration. This is especially true when installing Christmas lights on a roof. We recommend that you hire a professional company for Christmas light installation that you can trust.
Christmas Lights on the Porch
The front door serves as the focal point of a property from the outside, so it's a wonderful idea to add some tasteful Christmas lights and decorations. One idea is to frame your home's front door with lighted branches so that guests pass through on their way inside. Add in a Christmas wreath for an extra special touch.
It is also a nice touch to add Christmas lights to your porch's railings. You will have the opportunity to design these lights however you choose—whether you prefer just a neat line of lights along the top or prefer to go all out and cover every inch in bright lights. Combining lights with Christmas garlands along your porch railing is a perfect touch that adds a seasonal quality.
Icicle lights are another great option for porch railings, giving the effect of icicles dropping down towards the ground. At night, your porch will be the envy of the neighborhood.
Christmas Lights in the Garden
The only limitation when it comes to installing Christmas lights in the garden is your imagination. There is a near-endless list of ways that you can sprinkle some festive cheer with Christmas lights.
One idea is to illuminate the trees so that they create an amazing visual effect at night. You can tailor the look to match your style preferences, but we recommend that you keep it simple. White-blue tones are great for creating a wintry, icy feel, while warmer colors such as red also work great at that time of year.
If your garden has a path leading from the front gate to the front door, Christmas lights can help to light the way. You can even add lights above the pathway so that visitors are able to walk below them on their way to your home.
Statement pieces, such as large lighted reindeer decorations, are special touches that can give your exterior property an extra special appeal. If your property has the space, you can even add a number of lighted reindeer to create a little family.
While it's traditional to have the family Christmas tree in the living room, there is also nothing wrong with having a second tree in the front yard. Properly decorated and lit, it can also serve as a statement piece.
Create a Cozy Social Space
This is a great idea for the back garden, where you can share special moments with friends and family members during the Christmas period. Festive touches to outdoor seating areas can include a small Christmas tree, lanterns, and candles.
You can also create a Santa's Grotto in your back garden, which is great if your home has young children. Christmas lights, decorations, and fun games will help to make it a magical place for little ones. Also, feel free to go the extra mile by dressing up as Santa Claus or Mrs. Claus, too!
Must-Try Outdoor Christmas Lighting Ideas This Year
Christmas is just around the corner, so now is the time to start thinking about how you can create a festive feeling within your property. The above outdoor Christmas lighting ideas are tried and trusted; everything can be tailored to your home and its available space and features.
When it comes to outdoor Christmas lights, you can get as creative as you like—everything goes! It's also fun to get young children involved in the designing phase (as they are the ones who will be most excited about how everything looks!).
Like this blog post on Christmas light installation? Be sure to check out our other informative articles on a wide range of interesting topics.