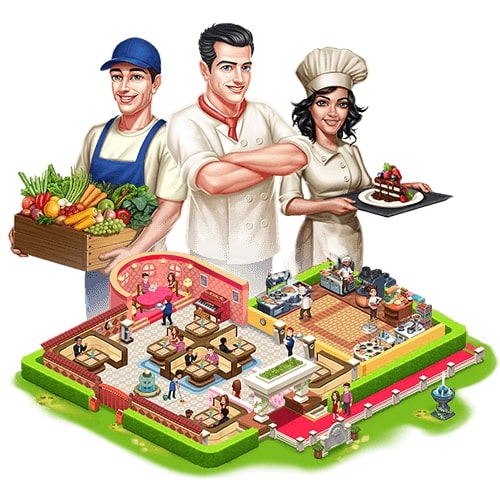 Lifestyle
Let's Make Cooking A Fun Activity!
Cooking is about so much more than what we eat; it's also about community and creativity. Several online cooking games can assist to make mealtime more organized and fun, from recipe preparation to grocery shopping to sharing virtual meals with loved ones near and far. You can even learn to manage a restaurant with the help of online games. But all this is worthless if you don't enjoy cooking a meal in the kitchen. 
Prepare a surprise dinner for your loved ones.
Surprising someone by cooking their favourite dish can be an amazing and satisfactory experience. You can get motivated to prepare one of the best meals by cooking it for your loved ones.
You can get a lot of remarks and appreciation from your family or friends by offering them scrumptious dishes. It will only boost your enthusiasm and self-esteem but also cement your relationships. Cooking can be fun if you follow these aspects while you are in the kitchen.
Switch ON your favourite playlist.
Streaming your favorite music while cooking generates a lively and exciting atmosphere in the kitchen. Let's admit it, cooking can be incredibly draining at times. As a result, to make your cooking experience enjoyable, you must first create a favorable cooking ambiance in the kitchen.
So, the next time you're in the kitchen, make a mixtape on your phone with your favorite music and press the play button. Connect a speaker to your phone and make an entertaining atmosphere.
Work on a new recipe.
Attempting a new recipe can help you have a creative culinary experience. I'm sure you've heard the expression "life is more exciting when you explore different things," and the same can be said for exploring new dishes.
In the kitchen, trying out a new recipe presents a fresh and fascinating challenge. If you like to be adventurous, this tip is for you! Surfing new recipes on the internet, enjoying culinary TV shows, or buying a traditional recipe book will push you to prepare a new dish. Online cooking games will also provide you with amazing recipes.
A cool chef's apronand a hat can be fun.
Wearing an interesting apron and an amazing chef hat can put you in the right mood while entering the kitchen. A fantastic attire can be entertaining and bring happiness to your spouse, kids, or parents. Find an amazing apron for yourself, it will motivate you to get into the kitchen to cook. If you don't already have a cool cooking outfit, now is the time to get one! Now is the time to go online and find your ideal culinary outfit.
Participate in a culinary class.
Joining a cooking class can allow you to be a part of the cooking community. In cooking classes, one can meet new people to share cooking experiences, and techniques, and improve culinary abilities. Cooking lessons can enhance your confidence to learn new recipes. You can be more creative in the kitchen with the help of the lessons that you will learn from the cooking classes. Check out various online websites and cooking channels to polish your culinary skills.
Post your culinary creations on social media.
Using social media sites like YouTube and Pinterest to learn new cuisines has become extremely prevalent. As a result, publishing brand new recipes on the internet is always welcome. Furthermore, publishing photos of your delectable home-cooked meals would never go ignored. Likes and comments on your post will motivate you to work on unique and innovative dishes.
Involve other family members also.
There is no doubt in saying that "too many cooks can spoil the broth", but cooking with your loved ones can be fun. It can be a stress-buster and a pleasure to prepare a delicious dish with the assistance of your family members. A little help from other family members can make cooking an easy task. They can wash and chop vegetables while you are working on other ingredients.
Also, it can save you a lot of time especially when you are expecting guests for dinner. Kids can participate by setting the table and measuring the ingredients.
Apart from the above-mentioned tips can help you make cooking a fun activity. You can take the assistance of online cooking games to learn interesting recipes. Even if you are interested in improving your restaurant management skills, these games can act as helping hands. 
Read more interesting articles at Pick-Kart