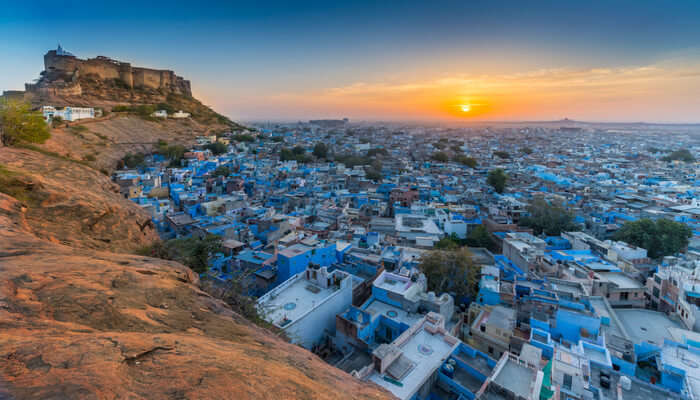 Lifestyle
JODHPUR INDIA: THE ULTIMATE GUIDE FOR KIDS
How to get to Jodhpur
Jodhpur is easily accessible by plane from Delhi or Mumbai and also by train from other major Indian cities such as Hyderabad and Calcutta. It is better to fly, as the distances between these cities are quite large. It is also possible to reach Jodhpur from other parts of the country. However, we recommend renting a car with a driver rather than driving yourself.
Getting Around Jodhpur:
It is the best way to travel around Jodhpur. You can hire a local driver and car for 8 hours. This will cost you about 20 USD. Although taxis can be difficult to find, auto rickshaws are a great way to travel short distances. Negotiate a rate beforehand.
Jodhpur Hotels:
Umaid Bhawan Palace: This palace was built in the 1920s to replace the Mehrangarh Fortress as the symbol for the new Jodhpur. It is still the residence of the Maharaja (king). Enjoy the lush 26-acres of grounds and the atmosphere that transports you back to the glory days of the British Raj in India, if your budget allows. For example, the marbled squash courts. The Taj group of hotels manages the Umaid Bhawan, which is one of Rajasthan's most popular tourist spots.
Ajit Bhawan: Designed for the younger brother of Maharaja, Ajit Bhawan is a more intimate feel than Umaid Bhawan. It's a good choice for anyone looking for authentic Rajasthani style without paying the Umaid Bhawan's high price tag.
The Raas is Jodhpur's most prestigious boutique hotel. It is located in a walled complex that runs parallel to the Mehrangarh Fort. The Raas is the ideal choice for families looking to escape the hustle and bustle of Jodhpur.
Things to Do in Jodhpur
Mehrangarh Fort is one of India's most well-preserved forts. This can be seen even by the fact that it still has a functioning website. The Mehrangarh Fort is your first stop in Jodhpur. It will take you about two hours to explore. To enjoy the stunning view of Jodhpur, with its blue-dotted neighbor hoods and the Thar Desert as the background, make sure you buy a ticket to ride the elevator to the top. You will then make your way to the rooms and artefacts belonging to the kings. It is possible to feel the power and influence of the Marwar kingdom and Jodhpur's leadership position in the region. The museum shop sells traditional Marwari miniatures made from local schools (a style that is different from Udaipur schools). Prices start at INR5000 (USD80) and go up to INR200,000 (3000). It is one of the most popular tourist spots in Rajasthan.
The Clock Tower, Sardar Market: It was built in the late 1800s. The Clock Tower is well worth a look on your Jodhpur tour. It can be found in the city's center, near the Sardar Market. This is an unapologetic assault on the senses. You should always keep your children safe and carry them with you if you're travelling with them. Strollers can be more of a hindrance than a help, unfortunately. You will find real treasures in the narrow alleyways. Remember to bargain. You can also take a look around and go out. The market is so intimidating that you won't even be judged.
Polo: Jodhpur is famous for its love affair with polo. It all began in the 1890s and ended with many victories for Jodhpur in India, England, and other countries. If you're lucky enough to be there during the polo season, you can watch a match. Visitors are welcome to attend from 2-6 pm each day. Admission is free. Enjoy the Jodhpur sun, the athleticism displayed by the horses, and take a seat to enjoy this important Jodhpuri tradition. You can see the current Maharaja and his son every day at the games. Unfortunately, he has been injured. This is one of my favorite memories of Jodhpur.
Umaid Bhawan Museum: The Umaid Bhawan Palace has a museum that documents the history of the property as well as the king who built it. Although the museum has some interesting bits (such as old polo gear, trophies), the main highlight is Maharaja's fleet of cars outside. You can see some of them on the Polo grounds during his attendance at the games.
Jodhpur's Best Restaurants
Jodhpur, a small town, is used to serving tourists. However, you should be cautious about what to eat. You can eat in the restaurants of any of these hotels if you're staying there. These options are available for those who travel.
On the Rocks: This charming restaurant has a beautiful garden that you can enjoy in winter. OTR is owned and operated by Jodhpur's well-known Indian fashion designer. You can order a fusion menu (try the paneer pizza and Indian Chinese specialties) or pasta if you prefer. Children will love the space and the décor (we played "Counting the camels" with them). When you're done, take a look at the boutiques outside.
HanwantMahal: Enjoy the local cuisine and royal treatment at Hanwant Palace while looking over the majestic Umaid Bhawan Palace. This is a popular spot for both locals and tourists.
Jodhpur Shopping:
Jodhpur is a small city with a lot to offer. You will find better prices on Rajasthani specialities like mirror-work and block-print and silver and bandhani fabric. Make sure to visit the recommended spots (see below) and bargain.
Silver: Rajasthan, in general, is well-known for its silver mining and carving. The Rajasthani aesthetic is a unique one that is worth bringing home. Beware of scam artists and tourists' prices. Gems and Art Plaza, Circuit House Road Opposite Indian Oil Petrol Pump), had a wonderful selection of silverware at fair rates that you can review.
Blankets: Block print is a popular style in Rajasthan. They can be purchased in cotton, but this store sold them in silk with merino-wool stuffing. If you live in colder countries, this is a great purchase. Although they claim to have set prices and won't negotiate, make sure the numbers they give are accurate. For a single blanket, you should pay between INR 2500 and INR 3000 (USD40) and INR 6000 (USD90) for a double.
Fabrics: You will be amazed at the multi-level Jain Textiles warehouse in Cycle Market Road, near the Clock Tower. You can find Rajasthani specialities such as mirror-work and zardosi wholesale prices for metal at import finishes. Ask him about unique items. With some pashmina shawls, throws, and baby cashmere, we were able to make out like bandits. Although there is a lot of sales pitching, their inventory and variety speak for themselves.
Jodhpur pants: This is a special style you can find in your local store, and that has become a global fashion trend. For the little guys, super cute and fashionable!
Mojrisjuttis: This is the local equivalent to the ballet flat, and it's available all across Rajasthan. This is available for both men and women, as well as children!
Camel leather/bone: Although we didn't find the right store, it is worth looking for. Ask your driver or concierge at the hotel.