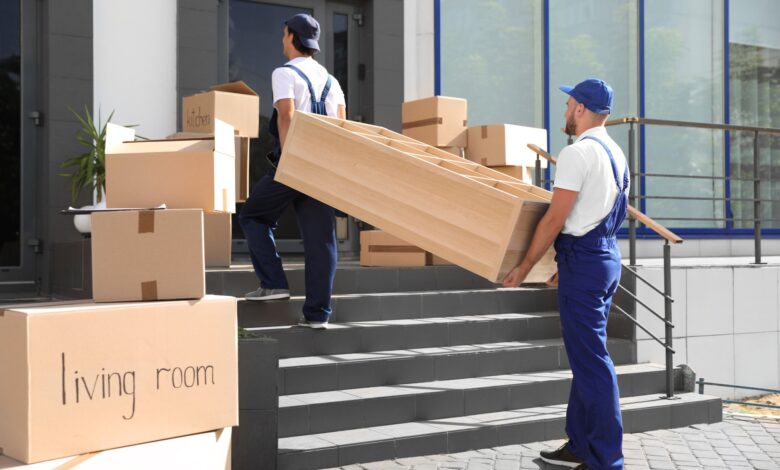 Business
How Do I Choose the Best Moving Company That I Can Actually Trust?
In 2021, about 27 million Americans moved to different residences. That's a big undertaking, especially if you're moving across state lines.
You're taking on a more enormous task than most people will make for several years. It begs the question, how do you know you can trust the moving company you hire? And more importantly, how do you choose the best moving company?
Don't sweat it. We've got the answers to all your questions. Let's explore everything you need to know before moving day.
Get Referrals from Family and Friends
There is no better way to find a reputable and trustworthy moving company than to get referrals from family and friends. By bringing first-hand recommendations, you can assure that your chosen company will provide quality service at a fair price. Be sure to get multiple offers to compare and contrast before making your final decision.
Also, don't hesitate to ask your family and friends for details about their experience with professional movers. Ask if they were satisfied with the service, if the move was on time and budget, and if the movers were courteous.
Check with the BBB
Checking with the Better Business Bureau is an excellent first step, as they can provide you with information on a company's complaints, reviews, and ratings. You can do your research on the BBB online for free. Make sure to stick with companies that are accredited or have a good rating.
Look for Local Companies
Start by looking for local movers; they are more likely to be familiar with the area and will have established relationships with other local businesses. Local movers are also more accessible and can offer their services as soon as possible.
Get Estimates from Several Companies
When researching potential moving companies, it's essential to get estimates from several different companies before choosing one to entrust with your belongings. You can compare rates and services by getting multiple quotes to find the best value for your needs.
Once you've found a few companies you're interested in, schedule an in-home estimate so they can give you a more accurate quote. It is also an excellent opportunity to ask questions and get a feel for the company.
It's best if you can request a binding estimate. This estimate means that the company agrees to a set price for the move, based on the information you provide. It can give you peace of mind that you will not face hidden fees or unexpected charges.
Make sure to get an estimate in writing and ask questions if you have any concerns. Taking the time to research your options can help to ensure that you have a smooth and stress-free move.
Watch Out for Red Flags
Red flags to watch out for include companies that require a large deposit upfront, have a history of complaints, or need you to use their packing materials. If a company has a lot of negative reviews, this is also a red flag.
Check to see if the company has changed its name recently. It can signify that the company is trying to avoid a bad reputation.
Look for Residential Movers with License and Insurance
If you're moving, you want to ensure that your belongings are in good hands. After all, you've accumulated a lot of stuff over the years, and it's not easy or cheap to replace. So how can you be sure that you're choosing the right moving company?
Look for licensed movers and make sure they have insurance. It will give you peace of mind that your belongings have protection in case of any accidents or damage during the move.
It's also important to understand your insurance coverage. Some companies will offer protection for your belongings, but it's important to know what is and isn't covered. Read the fine print and ask questions to understand what you're paying for.
Look for companies that offer complete value protection. The company will reimburse you for its total value if they lose or damage any of your belongings. Moving is stressful enough without worrying about whether or not your belongings are safe, so make sure to choose a company you can trust.
Ask for Professional Accreditation
Look for professional accreditation from organizations such as the American Moving and Storage Association (AMSA). It typically comes in the form of membership with the AMSA. This organization screens movers and issues accreditations to those that meet specific standards.
Members of the AMSA must adhere to a strict code of ethics and maintain a high level of professional standards. Moving companies not members of the AMSA may still be reputable. Still, it's a good idea to check for membership first.
Verify the Mover's Address
Verifying the moving company's address before you trust them with your belongings is essential. You can do this by visiting their website or contacting them directly. Ask for their physical address, not just a P.O. Box.
Once you have their address, you can use Google Maps to verify it exists. If the address is residential, that's a red flag. A reputable moving company will have a commercial address.
Get a Written Contract
This way, you'll know what to expect from the company, and you won't have to worry about surprises. Ensure that the contract includes everything from the date of the move to the price of the services. And if you have any questions, don't hesitate to ask the company for clarification.
Make sure that you don't sign a blank contract. It is a huge red flag and should be a deal breaker. Make sure that all of your things are listed on the contract, as you can't file a claim for something that is not in the inventory.
A Smart Homeowner Should Look for the Best Moving Company
Make sure to choose the best moving company when moving. Get recommendations from friends or family who have used a moving company before.
Once you have a few recommendations, research the companies online and read reviews. It's also a good idea to get quotes from multiple companies and compare prices.
When you've narrowed it down to a few companies, check their licensing and insurance information. Once you've done all your research, you should be able to choose a moving company that you can trust.
Want more exciting content like this one? Check out our blog for more moving tips and advice!