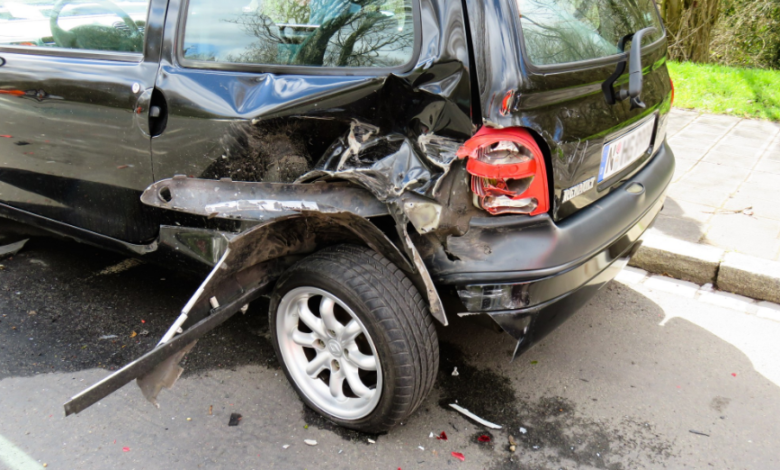 Auto
Hit From Behind and Hit the Car in Front: Who's At Fault?
So, you've had the bad luck of getting hit from behind, which caused you to ram right into the car in front of you.
The tricky thing is that determining who's at fault can be complex in this case. Accidents happen rapidly, and it's difficult to trust people's memories afterward. It's not always easy to figure out who was responsible for a crash, even if witnesses or camera evidence are available.
You might be wondering, "if I hit someone from behind, is it my fault?" No worries, you've come to the right place.
Read on for our breakdown of the nuances of assigning fault in car accidents, focusing on what to do if you hit a car from behind.
The Importance of Determining Car Accident Fault
Finding out who is responsible for a vehicle accident's injuries and other losses (together referred to as "damages") is critical. It typically determines who will have to pay for those costs going forward.
In most cases, the individual who caused the collision is responsible for the damage to the other party's car and any resulting injuries. Also, the at-fault driver's auto insurance company will foot the bill instead of him or her.
Uninjured drivers in places with no-fault auto insurance may file a claim with their own insurers. This is regardless of who was at fault for the collision. Passengers who get injured in a car accident may normally file a claim against the driver's no-fault insurance coverage.
Uninsured motorists are still another problem. What happens if the other motorist does not have insurance, and what happens if you get into an accident and are uninsured?
Who's Responsible for Determining Fault?
In the vast majority of cases, the investigation into who was at fault for a collision is spearheaded by the driver's insurance company.
For the most part, it's the claims adjuster who'll perform the inquiry in these situations. Interviewing the drivers and passengers involved in the collision, as well as any witnesses, may be part of this inquiry.
Photographs, automobile repair estimates, a police report, and video security footage. All of these may be used by the claims adjuster.
If your vehicle accident lawsuit goes to trial, things might become a lot more complicated. Occasionally, an automobile accident case may proceed to trial. Then, the judge or jury will determine who should be held legally liable for causing the accident.
Depending on the nature of the accident, the claims adjuster's office will play a role in the first inquiry. However, if required, they will do fieldwork as part of the study to finish it.
Before any repairs are made, it's a good idea to go to the scene of the accident and inspect the damage to the car. By examining the damage to the car, an investigator will be able to piece together who was responsible for the collision.
At this point, you'll need to have the expertise of a specialized lawyer, which you can reach out to on this website.
Getting Hit From Behind: Assigning Liability and Fault
Rear-end collisions with other vehicles might result in you colliding with the vehicle in front of you. And, the driver who rear-ended you is legally responsible for the accident. The fact that numerous drivers are involved in chain-reaction incidents makes filing an insurance claim or a lawsuit difficult.
When the front driver rear-ended you, the driver behind you may choose to sue both of you. He may not know which car to hold responsible for his injuries.
There may be a financial obligation on both drivers to reimburse the lead car's owner if a judge rules that either vehicle or both vehicles are to blame for the lead car's damages. Court awards each driver a proportion of culpability depending on how much blame they bear in relation to their respective fraction of the overall damages.
When the lead driver sues the middle and rear drivers, the middle vehicle driver may claim that the last car forced them into the lead car and so they are not liable for the accident that occurred.
Within the initial action, a crossclaim may be filed by the intermediate vehicle driver against the final car driver for damages. It is the responsibility of the last vehicle to pay the middle car driver's part of the blame if the middle car driver wins their crossclaim but is held liable to pay the lead car.
What to Do if You Hit a Car From Behind: Gather Evidence
After a car collision, there are three things you must do immediately.
This is even more critical if the location of the vehicle damage looks to be major.
Take pictures before leaving the scene
Get the names of witnesses
Call the police
Make careful to gather the names and contact information of any witnesses to your accident. Witnesses may be crucial in determining who is responsible for a vehicle collision since it is typically a question of your word against the other driver.
If you can, photograph the scene of an automobile collision as soon as possible. If you can, get as many images of the accident site as possible, including both vehicles, the wreckage, and any other pertinent items.
In many places, if an automobile collision results in physical injury or property damage beyond a specific threshold ($500 or $1,000, for example), a local law enforcement agency must be notified.
There are times when you may wish to notify the local police or sheriff's department if you suspect that the other motorist was at fault and that his/her culpability may not be entirely evident. The responding officer's notes on the location and level of vehicle damage are often included in any police report filed in connection with the collision.
Car Accident Hit From Behind: Exploring Your Options
Collecting evidence is the first step in determining who was at fault in an accident, especially one with a hit from behind.
Consider contacting an experienced automobile accident lawyer when there is a lot at risk and there is a disagreement about who is at blame and how much compensation you are entitled to.
Next step, you'll want to check out our legal section for more tips and advice on how to approach the situation.