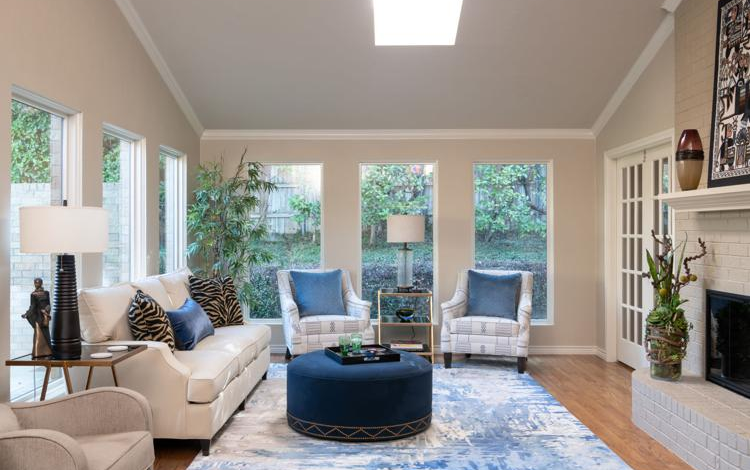 The oldest rug in the world today was made in Armenia, the Pazyryk rug, dating back between the 5th to the 3rd century B.C. It is proudly on display in St. Petersburg at the Hermitage Museum. They miraculously excavated this knotted carpet from frozen tombs in Siberia.
If you are ready to choose the perfect large area rug to complete your home décor, you will soon be a part of a long history of people who love their area rugs.
How can we be so sure you will buy a rug that you will love? Because you are reading this article, of course! This is the perfect place to be for any connoisseur of living room rugs.
Here are the five quick tips to be the envy of everyone who comes to visit you and has the pleasure of walking across a large area rug of beauty!
1. Choose the Right Color
First, you must inspect the room where you will place the large area rug. Is there a bunch of patterns and colors? Here, you want to choose a large area rug that is a single color to make it more appealing.
However, if you want a large area rug with a lot of colors and patterns on it, you may choose to reverse engineer it. Here, you choose the large area rug you love and then make the colors and patterns in the room coinciding with the rug.
2. Create Contrast
Living room rugs could end up the largest object in your living room. Be conscious of the patterns and tones on the floor, walls, furniture, and décor.
You do not need to be conservative in terms of color matching. Often, the best and most beautiful area rug could be one that creates contrast with its surroundings.
3. Pick the Right Texture
A soft large area rug with long threads may seem great, but it's hard to clean. No matter the room, people bring in dirt and spill things. You will need to clean rugs from time to time.
A practical solution for a large area rug that will have traffic on it is to choose one with a hard surface that is simpler to maintain and clean. For more brilliant advice on how to clean your large area rug, follow this link.
4. Choose the Right Rug Size
The best size depends on the room. For living room rugs, all the furniture should be able to sit on the large area rug. If you cannot do this, then just the front legs are okay, so when you are sitting, your feet will be on the area rug.
For a dining room, you should have a rug size big enough that you can pull the dining room chairs back but still have them on top of the large area rug.
5. Decide the Best Rug Shape
This could be the most important design feature of a large area rug, so do not underestimate choosing the right shape. It largely depends on the room and the location of your furniture. You can choose rectangular, round, and runner.
Do you need something for a room that is more open? Or is it restricted, like a long hallway or stairway? Choose the best shape for your home décor.
Choosing the Perfect Large Area Rug
We know how much you love your home, so it is important to choose the right large area rug that you can also love for years to come. Choose the right color, size, shape, and texture that is easy to clean, and you'll look forward to the next time a guest arrives!
For more ways to love your home and the surrounding spaces, stick around. We have plenty more articles that will give you similar brilliant home tips!