Lifestyle
5 Digital Watches for Boys to Update Your Most Basic Outfits
Digital watches are all the trend these days, and most of us want to own one because of the style statement and sheer functionality that it offers. In a market flooded with all kinds of digital watches for boys in different shapes and sizes, choosing one is kind of difficult because we would rather like to own all of them, right? However, there are a few that stand apart and you would want to grab wherever you go.
So, if you want to make a style statement that others are likely to follow, then we have a lineup that's sure to get you excited. Are you ready? Here it is!
Trendies Grey Dial Plastic Strap Watch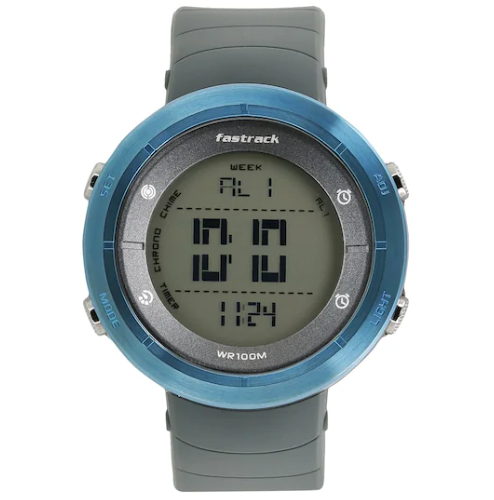 Ready to turn a dull day into an exciting one? Well, with this watch, you can. The trendy Grey Dial Plastic Strap Watch features a polished blue ring lining making the grey dial stand out. The watch can show you both local as well as world time along with what day of the week it is. It also comes with a handy alarm feature, and we all know how important that is to stay on top of things. So, if you want an accessory that is trendy, this is the watch that can add a spark to your everyday outfits.
Trendies Grey Dial Plastic Strap Watch
This digital watch has a bold look that will make heads turn whenever you are out wearing this one on your wrist. The brilliant digital dial display shows local as well as world time, and not only that, it comes with four pushers adding to the overall look of the watch. So, go bold this season with the Trendies Grey Dial Plastic Strap digital watches for boys.
Grey Dial Black Silicone Strap Watch
This one's for the adventure junkies as it comes with water resistance of up to 5 ATM, so feel free to hit the rain. The grey digital dial on the watch is enclosed within a round stainless-steel case and come with an impressive set of handy features like a stopwatch apart from showing the day, date and time. If you are looking for a watch that's as adventurous as you are, this is the one for you!
Black Dial Black Plastic Strap Watch
If simple and classic is more of your thing, then you better check out the Black Dial Black Plastic Strap Watch. Why? It comes in black. The simple design will remind you of the yesteryears when things weren't so complicated, and style was more about substance than anything else. The watch features a black dial with a time display and comes with two push buttons that help you easily change anything on display. Moreover, the watch offers a comfortable fit, thanks to its buckle closure. So, if you like simple, then it can't get any simpler than this. So, don't forget to check this one out.
Trendies Red Dial Silicone Strap Watch
It's time to paint the town red with this futuristic watch that comes with an iconic red detailing around the digital dial that makes it pop out. It brings the best of both worlds by combining style and functionality. If you are someone who would like an accessory that goes well with your favourite T-shirt and jeans while adding more to your everyday look, do check out the Trendies Red Dial Silicone Strap digital watches for boys.
In case you want more style options, you can also check out brands like Titan's website to view their latest collection of trendy digital watches available across a range of styles and design options. No look is ever complete without a watch, so getting one right away for making a style statement that speaks oodles about your unique personality sounds like a good idea, doesn't it?