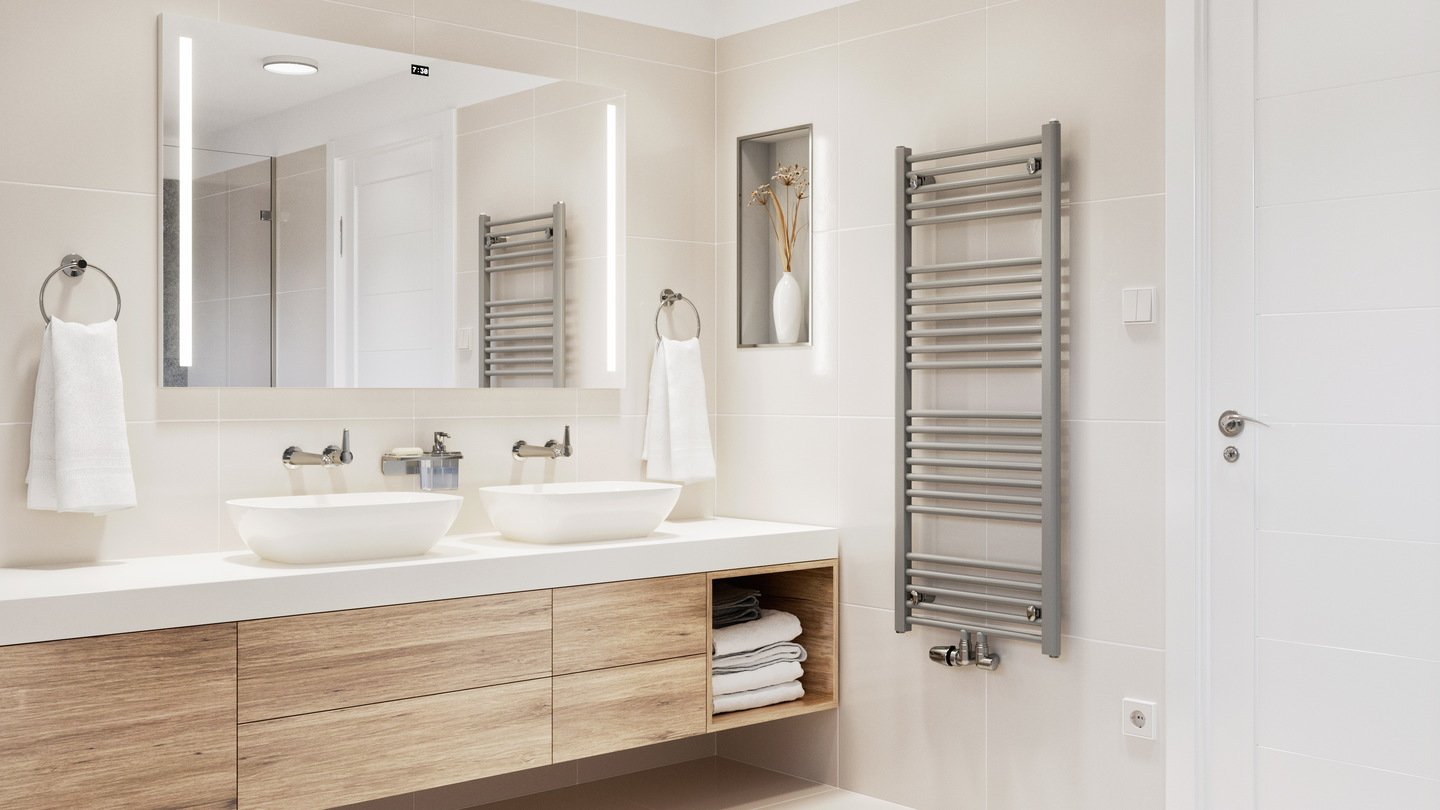 Bathrooms are an often neglected when it comes to heating, but they're actually pretty easy to heat when you know how. With the advancements in modern radiators, you can easily find a radiator that fits your bathroom regardless of it's size. Towel radiators are said to be the best way to keep your bathroom warm, as they not only produce heat for the room, but they also keep your towels fluffy and dry. You might be worried that they're expensive to buy, but this isn't the case at all. So, keep reading and discover 4 great towel radiators that come in at under £200!
Kudox Cadiz Designer Towel Radiator, £56.09
This high quality towel radiator is one of the cheapest ones on this list, but that doesn't mean it lacks in quality. With concealed mounting and chrome plating, this heater looks stylish and keeps the room super warm. It can also work with your central heating and can be converted to run purely on electricity too. When you look at the reviews for this radiator, you see just how great it is even further. With 100% of customers recommending it, this heater is definitely one you want to add to your bathroom.
Towelrads Pisa Premium Towel Radiator, £103.49
This heater is a little more expensive, but still comes in at nearly half of the £200 budget. The manufacturer's have such belief in this heater that they even offer a 10 year guarantee! The Towelrads Pisa Premium has a fantastic heat output too and a stunning matt steel finish. With a size of 800mm by 500mm, this heater is small but mighty. So, if you really want to heat up your bathroom, then be sure to add this stunning towel radiator to your home.
Blyss Chrome Curved Towel Warmer, £54
The Blyss Chrome Curved Towel Warmer is absolutely gorgeous and priced extremely fairly! Alongside a 5 year guarantee, this heater comes with all the things you'll need to install it such as brackets, plugs, and even vent and wall fixings. It's also said to help prevent damp in the bathroom as it keeps the room much dryer and stops condensation. This radiator is recommended to be used with central heating systems that run on water, so you may want to consider a different one if you're electric only. But this towel warmer is a fantastic model to have in your home, so definitely consider it if you're wanting to heat up your bathroom.
Terma Copper Flat Towel Warmer, £148.80
At £148.80, the Terma Copper Flat Towel Warmer is the most expensive one on this list. However, when you see it, you totally understand why! With it's beautiful copper colour and unique flat design, the price is completely justified. The copper looks luxurious as it's a rich, deep colour that will take your bathroom to the next level. The wider gaps in the design allow the heat to escape a lot easier, helping the room to heat up much quicker. It can also run on both central heating and electric, making it super versatile and suitable for all. Coming with an 8 year guarantee, this towel warmer is definitely one to look out for and it will really make your bathroom feel like a five star hotel!
Towel radiators may seem simple, but in fact, they're fantastic additions to any bathroom. Whether your home runs on water or electricity, you'll be able to find a towel radiator to suit. So, if you're on a budget but still want a brilliant towel radiator, be sure to check out the 4 on this list. You'll be surprised at how much of a difference they make to the warmth of your bathroom!