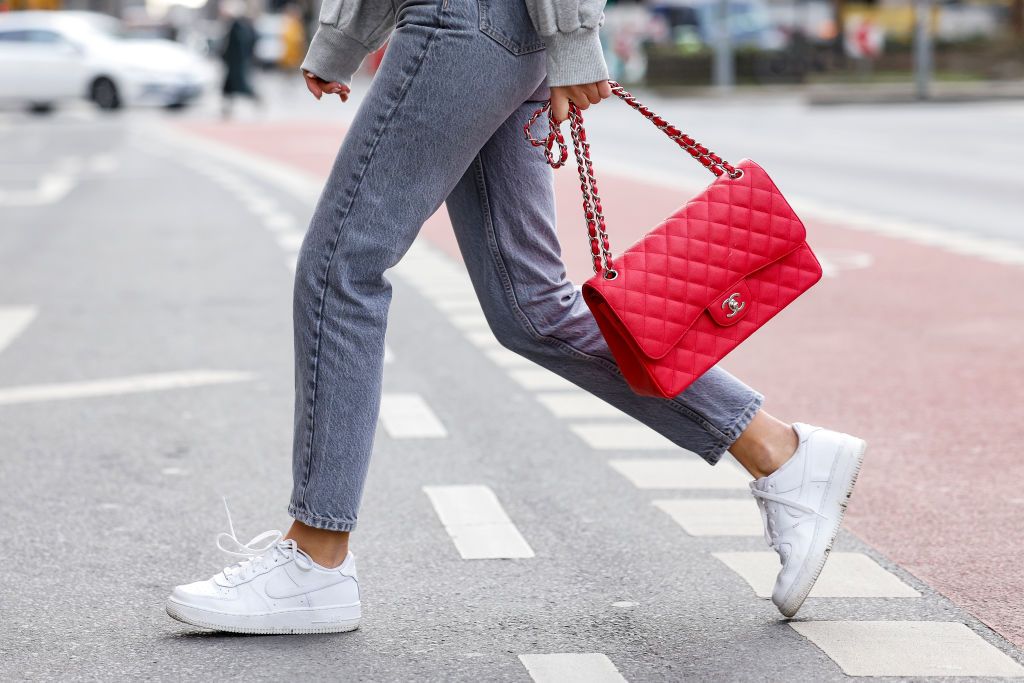 Fashion
10 Outfit Ideas That Prove Sneakers Can Be Styled With Everything
Heels and fancy chappals are stylish and chic, but nothing matches the comfort of a stylish pair of sneakers. They are a shoe rack essential for most women, and with the plethora of sneakers available for women, they are more than just gym shoes now. Below is a comprehensive guide with 10 Outfit Ideas That Prove Sneakers Can Be Styled With Everything. So, scroll through these ideas and find your perfect sneakers for women online or in-store. You will not be disappointed!
1. The Basic Tee and Jeans
Sneakers, a basic tee, and jeans make for the most classic casual outfit there is. Spend a day out with your friends, wear this to college, or travel in it, you will not be disappointed! Pair your dark blue cuffed jeans with a white slim-fit t-shirt, accessorize with a ponytail cap for women, and wear a vibrant pair of platform sneakers for women, like red. Of course, you could also go for the hotshot black monochrome look with a basic black tee, black ripped jeans, a small black women's backpack, and black chunky-soled sneakers to feel comfortable, look fabulous, and stand out without trying too hard.
2. Wedding Lehengas
Women are done feeling discomfort and pain, so they can make feminine choices when it comes to their footwear. Most female celebrities and cool brides are now pairing their wedding or bridesmaid's lehengas with cool, classy, and comfy sneakers. Pair a white lehenga with white sneakers with a suede leather upper, a silver one with white sneakers for women with metallic accents and flourishes, a neon green lehenga with a relaxed beige pair of chunky-soled sneakers, etc. and dance the day and night away!
3. Dresses
Women's dresses are varied in colours, designs, styles, and prints. And the right kind of sneakers looks good with most of them! Midi dresses are absolutely trendy right now, and even though they look great with platform heels, sneakers are the best footwear option to look chic and stay comfortable. So pair your deep green form-fitting midi dress with a multi-coloured pair of walking sneakers for women and turn heads wherever you go.
4. Crop Tops
Crop Tops are in right now and are the perfect match for sneakers. Both items can be dressed up or down to look feminine or androgynous. Pair your sleeveless crop top with a pair of high-waist bell-bottom jeans (that have not so surprisingly made a comeback) and retro-style chunky-soled sneakers for women. You could also pair your crop top with slim-fit women's shorts, an oversized full-zip running jacket, and running shoes to match the running jacket. This stylish outfit will enable you to run comfortably.
5. Casual Work Outfits
Women's wardrobes are full of comfortable and casual work outfits. However, their shoe rack does not yet represent the same level of simple style and comfort. When most women think of work wear, they think of uncomfortable chappals. You do not have to fall for that trope anymore. Pair casual work outfits like work slacks and a silk work blouse with simple slip-on ballet sneakers for women. You could pair your work skirt with classy chunky-soled sneakers for women and walk or stand comfortably throughout the day.
6. Quirky Sarees
Sarees are not only being worn in their most traditional form anymore. Many young Gen. Hustle influencers are finding more innovative and convenient ways of draping a saree. The quirkier the drape or the saree, the better it looks with a fabulous pair of sneakers. Pair your quirky saree with a spaghetti-strap blouse and mid or high-top sneakers for women. If you are going out for a casual night out with friends, layer up with a bomber or denim jacket for an extra boost of a stylishly relaxed aesthetic.
7. Cute Shorts
Shorts are a wardrobe staple for most women, regardless of their age. Summers in India are getting hotter, and shorts are getting cooler. There are various types of shorts out there, and they look fabulous with different kinds of sneakers. Pair your high-waist cotton shorts, a simple crop top, and a small backpack for women with slip-on ballet sneakers for women and look chic for a day out. Pair your denim shorts, a graphic tee, an oversized hooded sweatshirt, and high-top sneakers for a funky yet relaxed look.
8. Chic Kurtis
Sneakers are no longer just chunky and athletic. There is a vast collection of sneakers at your disposal. Similarly, Kurtis and casual dress suits are any Indian woman's staple outfits for running errands, taking a stroll around the neighborhood, or attending college or various classes. Your footwear should be as comfy as the outfit itself. So, pair your Kurtis with ballet sneakers in either matching or contrasting colours. Find the right pair of sneakers for women to complement your Kurtis since comfort is as important as style.
9. Gym Wear
Pair your track pants, sports bra, and training jacket with comfy and stylish running sneakers for a long and comfortable outdoor workout. You could also pair your athletic skirt, sports bra, and crop top for an agile tennis match with sneakers for women with a breathable upper. Finally, pair your running shorts, a racerback sports bra, a racerback tank top, a full-zip sweat jacket and classic training sneakers for an intense training session at the gym.
10. Travel Away!
High-waist joggers, a crop top, a cropped hooded sweatshirt, and a waist bag for women make for the trendiest and comfiest travel look right now. Pair that with comfortable high-top sneakers and look and feel like a celebrity on your vacation. Next, chunky-soled sneakers for women look fantastic with a princess-neckline, short but poofy dress. Finally, pair your bell-bottom cotton trousers, a basic tee, and a chunky belt with ballet sneakers for a comfortable and stylish trip.
Many generations of women have spent their lives prioritizing style over comfort worldwide, especially regarding footwear. However, we are way past those days now. Young women refuse to compromise on comfort now, inspiring the older women to do the same. So, find your favorite sneakers and build an outfit around them. Sneakers for women are the main star of the show now!