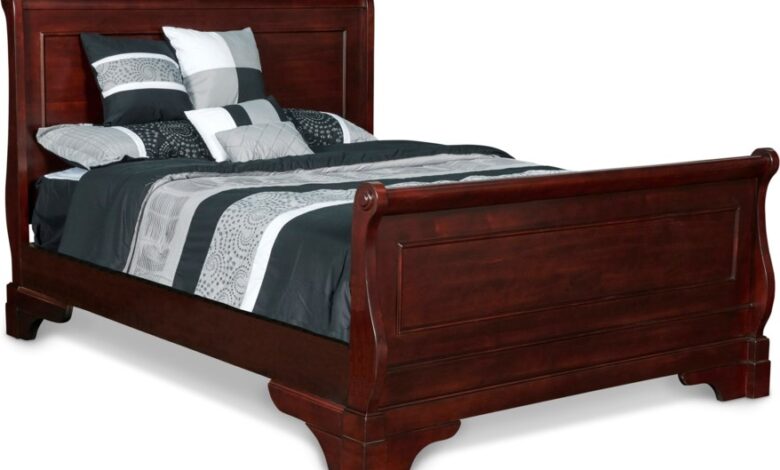 The Sleigh beds are shaped like a sledge. To understand the shape of this bed, we have to know that what is a Sled? So, let's talk a little about a sledge, and then you will have a clear picture of a Sleigh bed.
Have you ever seen a Santa Clause cart being ridden by a pack of reindeers? The answer is probably a big "Yes". Now keep that in mind and imagine that same cart without reindeer riding it. After that imagine the wheels of that cart been replaced by wooden feet. What you get after these changes made to a Santa Clause cart is your handmade Sleigh beds.
The curve of the head and footboard are away from the mattress. At first glance, it looks like a heavy and bulky piece of furniture but at the same time is an elegant piece of furniture that becomes the centre point of your bedroom. Let's talk about some of its features one by one:
An Elegant Look
This is a very stylish piece of furniture with an elegant look. The traditional handmade Sleigh beds give your bedroom a look of elegance. The classic beds are carved into a single piece of wood with dark shades. This dark shady design carved into a single wood provides a classical look to your bedroom. It also gives your bedroom a royal kind of look with a heavy-looking central piece of furniture.
Extra Storage
These beds are stylish, elegant and offer some extra storage underneath their mattress. A little extra storage space is always handy in small bedrooms to keep your room from becoming messy. These beds have drawers or compartments underneath. Some of these beds have a big drawer in their frame which sometimes have compartments in it to sort out your different stuff separately.
Material
These handmade beds are traditionally made out of wood carved into curved headboards and footboards. There is a single piece of wood carved into a headboard and another single piece for making a carved footboard. These pieces are stylishly designed to give them a classical look of classic furniture styles. This kind of look makes them look like bulky and sturdy pieces of furniture. It also makes the design look very sophisticated and elegant, more like a piece of art.
Modern Designs
Apart from the traditional handmade designs, some modern-looking designs have frames made out of metal. They also have a curved headboard and footboards. Some of these designs also have a flat looking beadboard design which is more like a chesterfield bed design.
Whether a classic homemade chesterfield bed or a modern looking metal frame bed, both designs are a piece of elegance and give your bedroom a beautiful classic look.
Homemade Chesterfield Beds
The Sleigh beds are handmade beds with carved and curved headboards and footboards. Keeping that traditional look, it is also called chesterfield bed which gives it rather a flat looking fluffy headboard curved at the upper edge.
The handmade chesterfield beds are upholstered headboard and scroll footboard with velvet, linen or leather fabric to feel soft and fluffy and keep you cosy while relaxing in the bed. The lattice velvet or linen wrapped fabric gives a soft look to this heavy piece of furniture. These beds with good mattresses are very comfortable and relaxing for good night sleep.
Different Styles
The handmade sleigh beds are a style statement for your bedroom. They are of different styles and materials like linen and velvet wrapped around them. The Chesterfield Beds are wrapped at the headboards with linen, velvet and leather for a cosy and comfortable feel. They make you relaxed and provide you with a good night sleep while in bed.
They are made out of different materials which include handmade carved wood, handmade chesterfield, iron, steel and leather. The iron and steel are wrapped up with different types of fabrics as mentioned above. These fabrics give you a comfortable and beautiful look to make an overall look more elegant.
A Timeless and Long-Lasting Piece of Furniture
The Sleigh beds are meant to be long lasting beds and timeless pieces of furniture because of their bulky and heavy yet elegant design. They are carved into heavy pieces of wood especially for their headboards to stand out from the rest. The carved patterns on a big bulky piece of the headboards are not meant to be moved, again and again, they are to be bought once in a lifetime. They are precious pieces of your bedroom furniture.
They are made of good and high-quality wood to last a lifetime and can bear heavy weights and careless movement. It is not easily damaged because of its heavy design and high-quality wood material.
When buying handmade sleigh beds, remember that you are buying them for their traditional and classic curvy look. If you are buying a handmade chesterfield bed type with velvet or linen wrapping, make sure it is curvy with a scroll footboard.