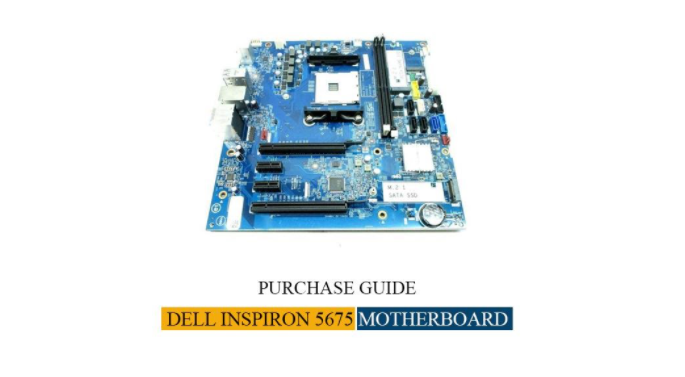 Tech
Purchase Guide: Dell Inspiron 5675 Motherboard – Specifications and Reviews
Finding the right motherboard is the first step of building a reliable system. A motherboard is something that all other components depend on. Therefore, choosing the wrong motherboard could lead to a disaster waiting to happen. The motherboard should take precedence over any other component. You first build a structure and then get in furniture. The motherboard is the structure of your system.
You will do yourself a big favour by investing in the right motherboard. It is one of those situations where price should not influence your decision. However, by that, we do not mean you should spend a fortune on it and get the most expensive one on the market. The most expensive motherboard is not necessarily the right one. It will be useless if it does not fit your requirements or is not compatible with the other components of your system. Building a system is the art of putting together the right components. In a nutshell, it is all about your requirements. But the question is how to find the right motherboard. 
Here's a quick purchase guide for you to make finding the right motherboard easier and less hectic for you.
First things first, it should be compatible with your CPU. You can get the latest, most expensive board. However, if it does not support your CPU, it is a total loss of money. Make sure the motherboard you choose has the right socket to support your CPU. You must thoroughly assess your needs in order to make the best decision. For example, AMD's most recent mainstream processors require AM4 CPU sockets. But Intel's 10th- and 11th-generation Core CPUs use LGA 1200 sockets. A motherboard with an LGA 1200 socket to support an AMD CPU would be a bad choice. 
Next comes the form factor. There are fewer spaces and features on a smaller board. ATX, Micro-ATX, and Mini-ITX are the three standard sizes of motherboards, with ATX being the largest and Mini-ITX being the smallest. With a small board, a small chassis can be used, but you will have to compromise the number of slots and connectors required for memory and expansion cards.
Third comes wireless connectivity. You never want to spend your hard-earned money on features you do not need. It is an absolute waste of money. Invest in integrated Wi-Fi and high-end ports only if you need them. If you have Ethernet, paying for wireless connectivity is useless. Your PC will be more efficient if you include USB 3.1 Gen 2 and/or Thunderbolt support, instead. Thunderbolt, however, is not normally spotted on AMD motherboards.
And, last but not least, the price factor comes in. You can get a good motherboard for a price as low as $150. However, if you want one with overclocking capabilities, need PCIe 4.0. Require several ports, a good motherboard, in that case, will cost you above $200. The best, high-end desktop processors, such as AMD Threadripper, necessitate motherboards that normally cost $200 or more.
Motherboard Essentials
This section will start off with a basic understanding of the most common features of a motherboard. Such as various chipsets, form factor, connection types, ports, and expansion and memory slots, eventually going into nuances. like board functionality and architecture and aesthetics, so you'll know exactly what to look for (and what to overlook) when buying a motherboard.
CPU Socket Compatibility
Because the CPU socket on a motherboard can only operate with the chip line it was built for, the CPU you plan on pairing with your board will narrow down your alternatives. For example, if you are going to buy an Intel Core processor from its 10th or 11th Generation, there must be an LGA 1200 socket on your board. Boards that have an LGA 1151 socket are requiring for older 9th-generation processors. AMD simplifies the process by using one type of AM4 socket for its complete range of recent mainstream chip. Be it the Athlon or 16-core Ryzen 9 series – well, at least for the time being. However, pairing new processors with old motherboards may pose issues. Both Intel (LGA 2066) and AMD (TR4) use distinct sockets for their truly high-end processors to support the bigger size. Power draw of their Core X and Threadripper CPUs.
Form Factor
Motherboards today are mostly manufacturing in three sizes: ATX, Micro-ATX, and Mini-ITX.
ATX: Being the largest form factor, ATX is the existing standard, with the most plug and slot space.
Micro-ATX: Being 2.4 inches shorter than ATX, it has fewer expansion slots.
Mini-ITX: Mini-ITX is appropriate for compact choices. It has fewer storage and memory ports, and you have room for only one add-in card.
Required Number and Types of Ports
It is a good idea to inspect the I/O area of a motherboard to see whether it has the external connection choices you need, but you should also look for USB headers. These will allow you to add additional ports to your system chassis via a front-panel connector or affordable expansion slot brackets.
Here's a rundown of typical ports, along with our thoughts on each:
USB 3 (or USB 3.1 Gen 1): As they are compatible with almost all peripheral devices, it is impossible to have too many of these ports.
2: This type is slower than USB 3/3.1, yet plenty fast enough for keyboards, mouses, and other peripherals.
USB 3.1/3.2 Gen2: Although only a few peripherals support this standard, it provides 10Gbps of bandwidth, which is twice as much as USB 3.1 Gen 1/USB 3.0. Having two 1Gbps lanes, USB 3.2 Gen2 2×2 increases the bandwidth once more. On mid-and high-end boards, you will usually only find one of these ports.
USB Type-C: This type is compatible with USB 3.1 Gen1 or USB 3.1 Gen2 and is intended for modern devices; for example, phones. There is a small number of USB 2.0 ports that are designated as USB-C audio connectors in order to connect USB-C headphones.
HDMI/DisplayPort: This is needed only for integrated graphics. Dedicated graphics cards come with their own interfaces.
Audio jacks: These are necessary if you want to use analogue speakers or headphones.
PS/2 ports: These ports allow you to use ancient keyboards and mouses.
Thunderbolt: This is a very unusual feature incorporated into motherboards, but it is supporting by some boards via specific add-on cards. It offers the quickest connections, with speeds of up to 40Gbps.
While you may not require many USB 3.1 Gen 2 or USB Type-C ports, they are useful for future-proofing your computer.
Required Number of RAM Slots
Most standard boards now feature four memory slots. However, smaller Mini-ITX variants often only have two, and HEDT boards may have up to eight. Of course, the number of slots restricts the amount of RAM you may add.
However, for most workloads, 16GB is enough, and 32GB is more than enough. Even though you only have two slots, you can add up to 64GB of RAM. However, you should expect to spend more for a richer 64 or 32GB kit that includes two sticks instead of a kit that has four sticks.
Required Expansion Slots
The short PCIe x1 slot (generally intended for USB as well as SATA expansion) and the longer PCIe x16 slot (specially designed for RAID cards, graphics cards, and incredibly fast PCIe storage such as Intel's Optane 905 SSD) are the two most common variants today. Most ATX or Micro-ATX boards, which have at least one x16 slot and one or two x1 slots, should suffice if you are only intending on installing a single graphics card, a pair of SATA/M.2 drives, and possibly a video capture or audio card.
However, the new X570 board and the B550 one, as well as forthcoming Intel Rocket Lake-S boards (and, perplexingly, certain previous-generation Z490 boards), all support PCIe 4.0 instead of the 3.0 that has been conventional for years. PCIe 4.0 effectively doubles the bandwidth available on each PCIe channel. However, most devices have not fully embraced PCIe 4.0 yet, with the exception of PCIe 4.0 SSDs.
However, determining the number of cards and drives you can attach is difficult because, regardless of the number of slots you have, all of your components share a defined number of high-speed input/output lanes and PCIe lanes. We could write a book explaining how these lanes operate, but the simple thing is that most modern motherboards adapt for bandwidth limits by turning off some connections when devices are installed in specific slots.
For instance, using a PCIe M.2 drive may deactivate SATA ports. Similarly, placing a card in a third PCIe slot is likely to deactivate a second M.2 slot or a third M.2 slot. Because these difficulties vary considerably from motherboard to motherboard, you should check with online manuals before purchasing—particularly if you plan to overcrowd your board with components.
However, if you plan on adding multiple discs and cards, consider a high-end board, as they come with more PCIe lanes you could use. AMD's Threadripper CPUs all feature 64 lanes (of which 60 are from the processor while only four are from the board). On the other hand, Intel's Core X platform has up to 44 lanes from the processor and a total of 24 more from the board, depending on the processor. If you want to add a RAID array of PCIe or NVMe storage, numerous graphics cards, or other bandwidth-hungry equipment to your system, these higher-end platforms are an ideal option.
Various Chipsets
The processor you choose will define your compatible board options, and you will only have one option if you go with the highest-end mainstream Intel or AMD CPUs (Core X or Threadripper): X299 in the case of Intel or X399 if you choose AMD. However, mainstream customers who only need a single graphics card with just a few discs can typically achieve the functionality they desire by choosing a chipset preceding Intel's Z590 or AMD's X570.
A few years ago, if you had an Intel H470, H410, or B460 board, you could not overclock, despite the fact that only a few popular Intel processors are unlocked for overclocking (ones with names ending in "K"). With the next Intel 500-series boards, that appears to be changing.
Overclocking is still possible with AMD's B550/X570 (as well as previous B300, B350, and B450) chipsets. Although the X570 chipset eliminates certain fast USB and SATA connections as well as PCIe lanes, there are still plenty of those connectivity options to handle the most common computing workloads. Moving up to an X570 board is worth it if you require extra ports and drives, especially since many higher-priced B550 boards are just about as (but not more) expensive as many X570 options.
Overclocking Potential
If you want to overclock an Intel CPU, you will need a Z490 chipset and a processor with a "K" in its model designation (e.g., the Core i7-8700K), or upgrade to the high-end X299 platform with a Skylake X processor. Overclocking appears to be doable on Intel 500 series boards as well. However, you must still have an unlocked "K" CPU. In the case of AMD, things are much easier, with practically all current-generation Ryzen CPUs enabling overclocking, and almost all the lowest-end chipsets (A300 and A320).
However, this does not imply that regular users also need to overclock their CPUs. If you want your CPU to run at higher clock speeds than it is intended for, you will need to invest in a better cooling system and a high-end board. When all of these extra expenditures are factored in, you could be better off spending an extra $50-$100 on a processor that comes with higher clock speeds.
If you have one of the highest-end processors and wish to squeeze out that extra speed. You need to spend a bit more money.
Audio
You should be able to get by with onboard audio these days unless you are a real fan of audio. Have malfunctioning hardware, or get the cheapest motherboard you can and still hope for excellent sound.
The audio codec (also known as the audio processing chip) used by a motherboard determines its audio quality. However, if sound quality is important to you. Find the codec your board uses before purchasing to find out if it is a mid-range or high-end platform. Conversely, you can still use a discrete sound card or USB speakers, such as the Audioengine A2+. Which relocate the DAC (digital-to-analog converter) hardware beyond the PC entirely.
Required Additional Features
It is hard to cover all of the features that motherboard manufacturers plaster on their products, especially high-end versions, because there are so many. However, there are a few to watch:
Built-in on/off switches: These are useful during the initial build phase or if your system is being hosting in an open case for component testing and benchmarking. On-board controls (which may also include buttons to clean the CMOS or do simple overclocking) are not necessary for the common user.
LED diagnostic indicators: The miniature speaker that connects into motherboard headers and makes diagnostic beeps when anything goes wrong is becoming extinct. Most boards now incorporate a two- or three-digit display that serves the same purpose, providing an alpha-numeric code if something bad happens. When constructing a PC or upgrading an existing one, this can be quite useful if you forget to plug anything in, a component is not correctly placed, or a part turns out to be defective.
Wireless Connectivity: You will need a Wi-Fi card only if you do not have Ethernet. If you wish to keep your PC for a long time, a board with Wi-Fi 6 is a good choice.
Dual Gigabit Ethernet ports: Because a single Gigabit Ethernet port provides enough speed for Internet traffic, this is especially useful if you want to use your system as a server and the board can merge the two connections. Look for a board with 2.5Gb or one with10Gb Ethernet if you have a lot of wired network requirements.
Aesthetics
It is pointless to invest in RGB lights or colorful I/O covers and heatsinks. If you are going to see the insides of your system only when it is dismantled and the side panel is removing. If your enclosure has a glass wall, however, you should get a board that you enjoy looking at, preferably one with lights.
Be aware that the darker the motherboard is, the harder building the setup. As onboard symbols will be tougher to spot. Find a board with its fan and USB headers situated around the borders. As well as SATA and USB 3 header ports that face to the side rather than jutting up vertically. If you want your system to look as clean as possible (with a handful of visible cords running around the board). It will be much easier to achieve a clean build this way.
Recommendation
With all the latest features, Dell Inspiron 5675 Motherboard is an excellent choice for gaming as well as intense computing.