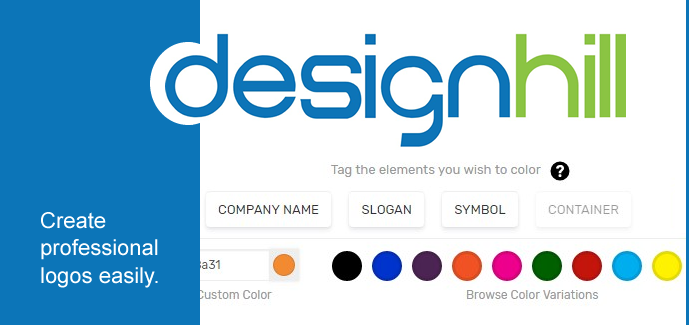 Web Design
How to Use Designhill Logo Maker to Create a Pro Logo for FREE
Irrespective of the business domain that your company operates in, your business needs a unique and relevant logo to represent your business and communicate with your clients on behalf of your company. A beautifully designed logo speaks volumes about your business — who you are, what you do, and how you can benefit your customers.
Moreover, this tiny graphic helps you establish your business and recognize your brand in your niche market. So, you must have an eye-catching logo for your business. Even if you already have a logo, you need to renovate every now and then to give your brand a fresh look. Search engine giant Google, for instance, has been following this mantra since it was founded in 1998. Here, in this post, I'll guide you step-by-step to create a professional logo design on your own using the Designhill Logo Maker tool.
A Brief Introduction to Designhill Logo Maker
Designhill Logo Maker is an artificially intelligent tool to create a stunning logo design in just five minutes. This powerful logo maker tool can benefit pro designers as well as beginners having no special design skills. Embedded with artificial intelligence (AI) and machine learning (ML), the tool keeps learning from your inputs. So each time you use its services, it gets better.
Edit panel is simple and interactive that you can effortlessly use to edit a relevant logo template with the choices of your icons, fonts, colors, and other elements available in its library. The best part of this logo maker tool is that you don't need a system with a high configuration. In fact, the application can run well on a system with just 1GB or 2GB RAM.
Using Designhill logo maker is absolutely free, but you'll be asked to pay a meager amount if you download the logo design that you have created.
How to Use Designhill Logo Maker
Let's have some fun! Creating a logo with Designhill logo maker is pretty much easy. Here's a step-by-step guide to using the Designhill logo generator.
Step #1. Launch the Designhill Logo Maker
Browse the Designhill website and then look for the 'Logo Maker' link provided at the bottom of the page. Alternatively, you can just click here to launch the tool.
The window prompts you to enter your company's name and slogan (if there's any). Enter your company's name or the text/word that you want to see in your business logo, and then click "Generate Logos."
Step #2. Select 5 design styles
You need to select as many as five design styles closer to your business from a library of logos already created using this logo creator tool. Then, based on your preferences, the system will generate logos for you.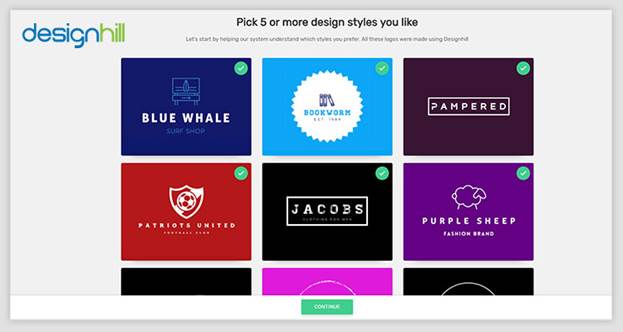 Once you've picked design styles, click "Continue" to proceed to the next step.
Step #3. Pick 5 colors
This step will ask you to choose five colors relevant to your brand from a list of colors. However, you can skip this step by clicking on "Skip This Step" for now and make changes whenever you wish to do.
Once you've selected colors of your choice, click on the "Continue" button to proceed to the next step.
4. Step #4. Enter your company name and slogan, if any
You're one more step closer to your logo. Enter your company name, tagline (if there's any, you can also add in the following steps), and your industry type. I have entered Designhill in the company's name field and chosen "Art & Design" in the third drop-down fox. I have left the "Slogan" field blank for now.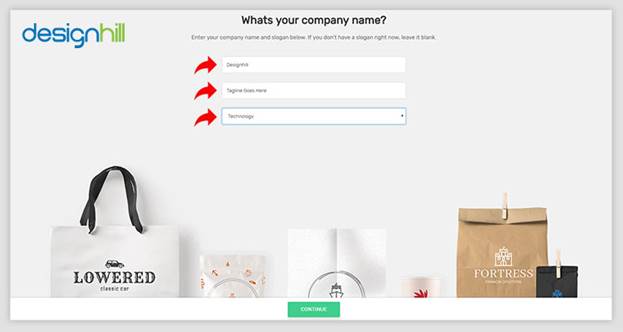 After filling/choosing information in the adequate fields, click "Continue," which will take you to the next step.
Step #5. Search and add up to 5 symbols
Search icons by entering relevant words or phrases in the "Search" field and pick up to five symbols closest to the symbol you want in your logo design.
Once you have made your selection, hit the "Continue" button. Or skip this step for the future.
Step #6. Pick a logo to edit or download
Bravo! Dozens of logos have been generated. Pick one you like the most or closest to your business and start editing to make it more personalized. You can change the name, slogan, and/or color in this step. Also, you can add "Symbols" or "Container" to your logo.
When you click either the "Edit" or "Download" button, a pop-up window will appear asking you to sign up/ login. If you already have an account with Designhill, just login with your credential, else create an account.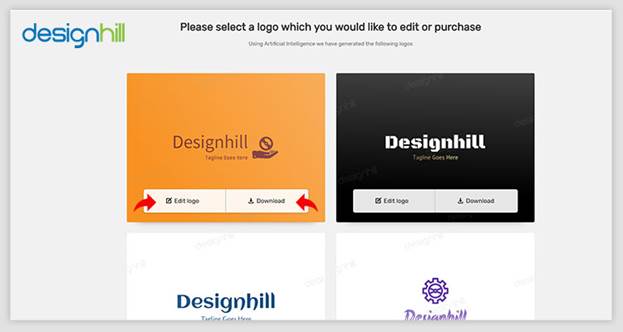 Step #7. Login/ Sign up
This step will ask you to login into your Designhill account if you already have registered with it. Otherwise, you need to Sign up and create an account with Designhill to change the logo that you have made or want to download the design.
Step #8. Preview your logo design before downloading
The preview feature of this logo maker allows you to see how your logo would look like on different items when printed. You can try the smallest and largest things you want to print on to see if they fit well.
You should also check if it suits your website.
The entire effort will let you presume your final product before it's finally printed.
Satisfied with your design? Click "Download," which will take you to the payment page. You're very close to having your logo!
Step #9 Pricing And Payment
You are one step away from having your logo design. Designhill offers three packages. Choose one as per your business need, make payment, and that's it!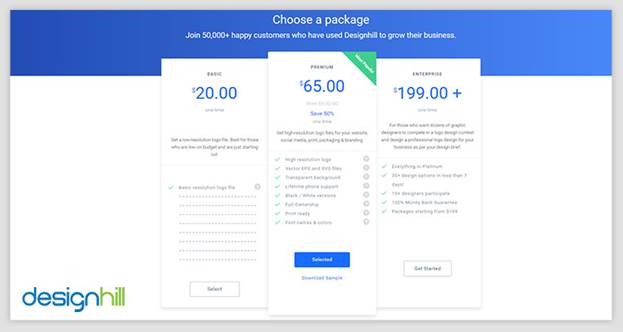 Designhill packages –
Basic: Under this package, you get low-resolution files. This is ideal for those having a tight budget or just getting started.
This package is available on a one-time payment of USD 20. You'll get a PNG logo file only under this package. However, you can upgrade to the Premium Package whenever the need arises upon payment of UDS 50
Premium: The most popular package of Designhill is available at USD 65 only. Under the package, you'll receive high-resolution files such as SVG, EPS, and PDF. These file formats can support your website, print, social media platforms, and packaging. An EPS file is editable, and you can make changes to your logo anytime.
Enterprise: This package comes at USD 199 and is suitable for businesses needing a high-quality professional logo. This plan is different from others as you get an opportunity to work with a dedicated designer. You actually launch design content under this package, and many talented graphic designers from across the world submit dozens of designs based on your brief. You award a designer by picking the most beautiful logo design.
If none of the designs attract you, your money will be paid back under the Company's 100% Money-Back Guarantee policy.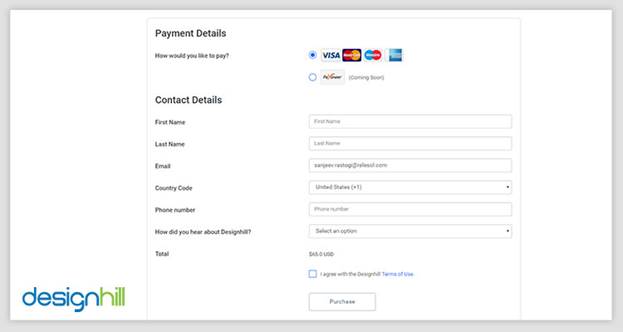 After making payment, the following screen will appear.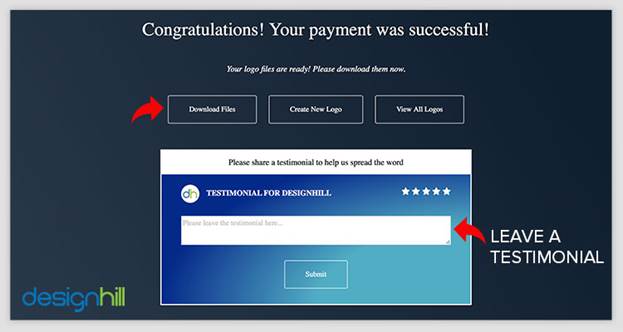 Step #10. Download your logo design file
Now that you have made the payment, it's time to download your breathtaking logo. You can download the file(s) based on the chosen package.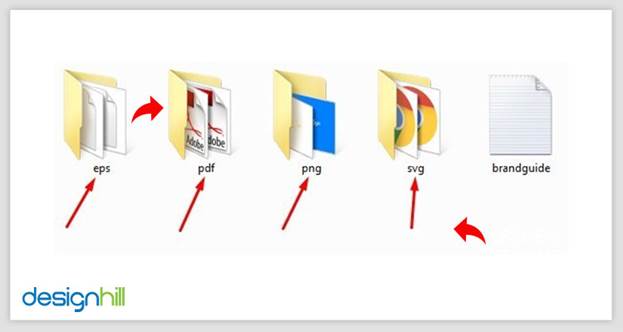 Yippee! You've done it. Logo file(s) with full copyright ownership is with you now. Place it wherever you want, and kick start your branding—an inevitable step to succeed in your business.
Conclusion
Designhill is an intelligent online logo maker tool that makes logo design effortless. Go through the guide and create your own logo in almost no time.
I hope you found this post worth reading. Happy designing! Cheers!!!