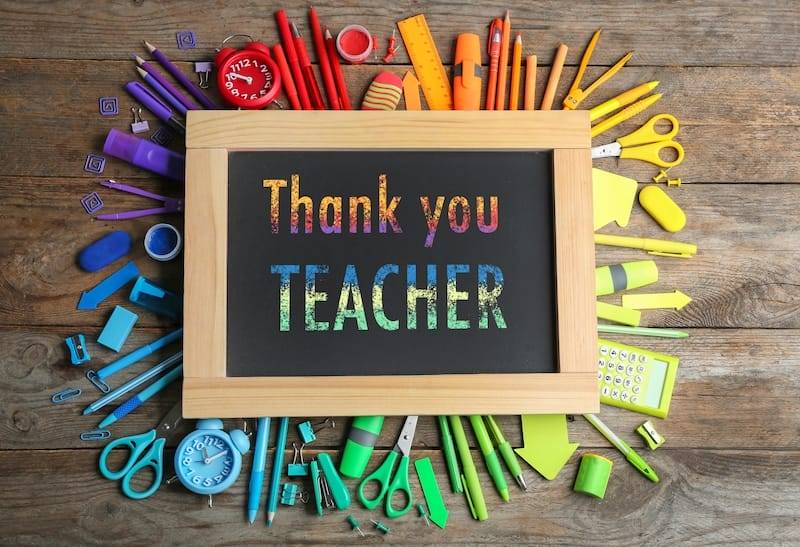 Lifestyle
How to Appreciate Your Teachers? (8 Ways)
Teachers play an important role in shaping the future of our society.
Showing them genuine appreciation can be done through simple gestures such as saying thank you, bringing them gifts, or sending cards and notes.
You can check this out to the most beautiful and inspiring teacher poems to express appreciation.
Furthermore, talking to them about their interests, taking the time to understand their teaching methods, and offering help in any way possible are all great ways to show gratitude.
Many teachers go out of their way to ensure their students succeed academically and personally. It is only fitting that we show them an appreciation for their hard work.
Anyway, here are some ways to show gratitude towards your teacher.
1. Say Thanks to Your Teacher
Simply saying "thank you" might go a long way toward letting your teacher know how much you value their work.
Take the time to show your gratitude, whether at the conclusion of a class, a school day, or the end of the academic year.
This modest act will convey to your teacher that you are really grateful for all they have done for you and recognize the worth of their contribution to your life.
2. Make a Note of Gratitude
A meaningful method to thank your teacher is with a handwritten message.
You can compose a brief letter expressing your gratitude for their instruction methods, tolerance, or encouragement.
You can also give particular examples of how their advice assisted you in overcoming obstacles or achieving your objectives.
The time and effort you put into drafting the note will be valued by your teacher.
3. Send a Gift
A little gift can also be a considerate approach to thank your teacher.
You can send a special present to someone, such as a mug with their name on it or a motivational saying.
Alternatively, give them a valuable item like a gift card or a book pertinent to their study area. Your teacher will value the gesture and the gift, no matter what it is.
4. Take Part in Class
You should keep in mind that your teacher often receives professional training to teach and guide you.
By participating in class, you can demonstrate to your teacher that you are interested in what they say and that you value their guidance.
You can participate in group activities, ask questions, and contribute to class discussions.
This degree of participation shows your dedication to studying and aids your teacher in understanding the effects of their teaching strategies.
5. A Poem for Your Teacher
An excellent method to show your appreciation for your teacher is to recite a poem.
Take the time to memorize and recite a poem to your instructor if it is one of their favourites or one that speaks to them.
This action not only expresses your gratitude but also highlights your commitment to learning.
It can also be a means to start interesting discussions on the themes, symbolism, and literary devices of the poem, leading to a greater comprehension and appreciation of the writing.
6. Offer to Assist
In addition to evaluating papers and developing lesson plans, teachers frequently have a lot on their plates.
A useful method to express your gratitude can be to offer to assist with modest jobs like organizing the classroom's supplies or cleaning up after everyone.
Your teacher will be grateful for the assistance, and you will feel good knowing you supported their efforts.
7. Pay Attention to Their Advice
Beyond the classroom, teachers impart important life lessons.
They offer advice on how to be successful in school, in your career, and your personal life.
Take the time to follow up with your teacher if they have given you advice on a specific topic, and let them know how their advice was helpful to you.
They will be grateful for the criticism and proud of their influence on your life.
8. Get the Word out
Finally, let others know how much your teacher has influenced you. Whether it's with other kids, parents, or school authorities, express gratitude to them.
You can also post a positive evaluation of your instructor online, emphasizing their instruction techniques, commitment, and influence on your life.
Teachers always appreciate positive feedback and encourage students to respect their efforts.
These actions let your teacher know that you appreciate what they do and enhance the relationship between the two of you, making learning more enjoyable.
Summary
Despite their mistakes, recognizing our teachers' hard work and dedication is essential.
We should strive to be understanding, patient, and accommodating as we appreciate them for all they do.
Appreciating your teachers reflects positively on everyone involved; thanking your teachers helps build strong relationships and encourages a positive learning environment.
By giving proper appreciation, we are helping our teachers grow and nurturing a positive relationship between us.