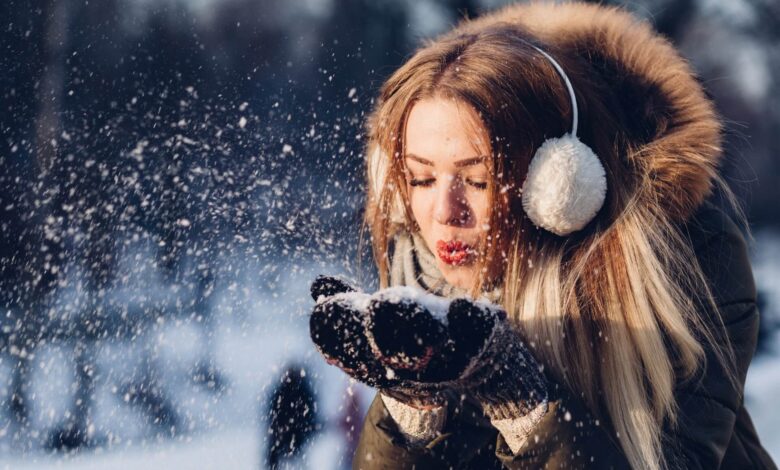 Lifestyle
Get Ready for Winter with These Beauty Tips
Winter is fast approaching. Which means the season of dry hair and skin is near. With harsher, colder weather comes all sorts of issues that can put a damper on how we feel about ourselves. It is important to take steps to combat harsh weather so you can not only make it through the winter, but thrive all winter long.
Feeling good is important, especially when entering a season that is known to bring seasonal depression with its cloudy weather and cold temperature. A few great ways to take this weather head on is by taking care of your hair, your skin, and your mental well being with new trendy choices.
Read on for a few great tips for staying on top of your beauty routine this winter.
Protect Your Hair
One of the first things that starts suffering as cooler, harsher air sets in during the winter is your hair. Winter air can dehydrate your hair, leading to brittle texture and even breakage. Obviously, no one wants this to happen.
Your hair is a staple of who you are. You want to walk into any room at any time feeling proud of it, no matter what style you're rolling with that day. Feeling confident about your hair can play an essential part in helping you feel confident about yourself at any given moment. So, take steps this winter to make sure your hair remains beautiful and thriving.
Choosing the right shampoo can make or break your hair this winter. If you hope to avoid dry and brittle hair, then you should consider picking up clarifying shampoo. Clarifying shampoo will restore your hair's natural radiance, brighten your hair, deeply clean your hair without drying it out, and remove dulling particles and build up. It is without a doubt the best shampoo for protecting your hair from the harsh elements, or repairing it if the weather has already done a number on it. Don't let your hair suffer, take initiative and be sure that your hair is strong, hydrated, and vibrant all winter long.
Protect Your Skin
It is no secret to anyone that the winter can cause some serious damage to your skin. Almost everyone has experienced how dry the winter can make your skin. For some people, their skin can dry up so much that it even results in cracking and bleeding. This is the last thing anyone pursuing beauty wants. So, what are the best ways to avoid this seasonal problem?
A skin care routine is essential with normal weather, let alone harsher weather. As the winter sets in, you should consider adapting your skin care routine to a routine that focuses a little bit more on hydration. Roo Skincare has a few great options for skin that is experiencing a lack of hydration. Their revival masks are one example. All they need is ten minutes to supply you with hydration for 72 hours. There's no doubt that this will protect your skin from the dry, harsh winter air.
There is also the obvious, body lotion. Body lotion is essential pretty much all of the time, but especially during the winter. If you want to keep your skin hydrated and beautiful all winter long, applying a good body lotion regularly is key. Both of these steps are great ways to keep your skin looking fresh and beautiful.
Making Trendy Beauty Choices
How you feel about yourself and your beauty greatly revolves around your personal confidence. Whether you are a generally confident person or not so much, your confidence is always something that you make conscious steps toward boosting. Especially when it comes to beauty. You just have to do the research and make trendy and fashionable choices that are sure to turn heads and bring compliments when you walk into any room.
Eyebrows Change Everything
If you want to turn heads with your beauty this winter, then you are going to want to follow trendy eyebrow techniques that could leave you looking like a celebrity. If you've ever wished you had perfect eyebrows but never knew how to accomplish that without spending too much money, then you've come to the right place. Getting an eyebrow microblading pen is the perfect solution to your problem. Complete with six different choices of shades, you can have perfect and natural eyebrows within seconds. It is affordable and painless, leaving you happy and looking as beautiful as ever. Don't waste time and money at a salon trying to get perfect eyebrows the painful way when you can easily get that from the comfort of your own home.
Follow Trends the Right Way
Following trends is not the easiest thing in the world to do. That is why in order to do it right, you have to follow companies and brands dedicated to informing the public on what is trending and what is not. Don't rely on yourself or your friends to figure that out, trends are ever changing, they come and go as the seasons change. You are going to have to gear up to change with them.
It's not enough to just follow companies that tell you what is trending. You want the perfect company that shows you what is trending as well as what works and actually could aid in your journey to the most beautiful you.
Byrdie does just this. They stay on top of today's hottest trends so you don't have to think twice about what products you choose. However, they are not just a great resource for what is trending. They also offer expert advice on what beauty products can do for you. They try them out and review them so you don't have to roll the dice. Giving you the confidence you need to know that you're investing in the perfect beauty products for you.
Staying on top of trends is not only fun, but it will ultimately give you the confidence boost you need to feel like the beautiful person that you are.
There is nothing better than walking into a room, no matter if it's the grocery store, a club, a friend's home, or a restaurant, and feeling like a celebrity. Having beauty and confidence can make you light a room up like nothing else. So, don't hesitate when it comes to ensuring your beauty routine works this winter. Take steps to ensure that your hair stays vibrant and hydrated all winter long. Make sure your skin is hydrated and smooth for any situation you may find yourself in. Everyone sees your hair and your skin, make sure you feel confident in it. Finally, choose the right trends to follow and follow them hard. Be at the forefront of trends in your friend group and impress everyone with your style and knowledge of different beauty products. There's better than feeling beautiful and helping those around you achieve the same.
As this winter settles in, don't retreat to your couch and stay inside all season long. Do your eyebrows, put on a great outfit and get out of the house. Make the world notice you. You may just have your happiest winter yet.