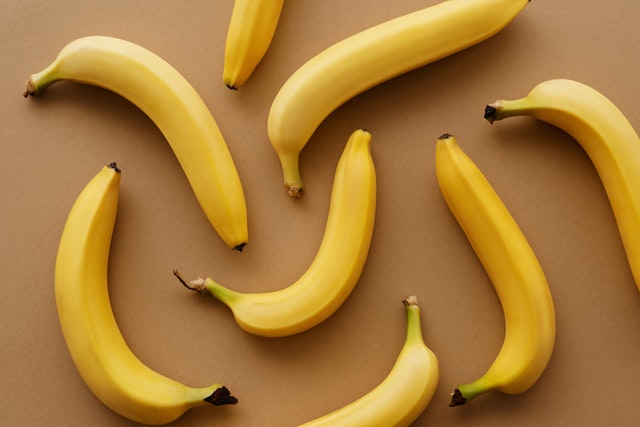 Health
Can I Eat 2 Bananas a Day for Weight Loss? Read What Will Happen!
Becoming slimmer is a goal of millions of people, and Bananas can help with it if you eat them in the right quantity. People often wonder, how many bananas per day is good for losing weight? This is a critical question as many people "overdose" on this fruit and end up facing the negative consequences.
You should not eat more than two bananas a day for weight loss. Yes, two bananas per day are the limit when it comes to this fruit.
Bananas are super beneficial as they are an excellent source of vitamin B6, C, Potassium, and manganese. A regular banana of 118 grams has the following nutritional value:
| | |
| --- | --- |
| Calories | 100 |
| Protein | 1g |
| Fiber | 3g |
| Fat | 0.3g |
| Vitamin B6 | 22% of DV |
| Vitamin C | 17% of DV |
| Potassium | 12% of DV |
| Magnesium | 8% of DV |
| Manganese | 16% of DV |
| Iron | 2% of DV |
Why Eating Two Bananas Is Good For Weight Loss? Exploring The Reasons
Eating bananas does not directly make you slimmer. Rather, it helps indirectly, which is equally important if you want to lose weight.
Fiber In Bananas Make You Feel Full
If you feel any craving for a snack, go for bananas. The fiber content in the bananas reduces your appetite for unhealthy and untimely snacks and makes you feel full.
Since the cravings are reduced and you feel full; hence, the calorie intake will be less.
It is also backed by a study that concluded that eating fiber-rich foods can reduce the chances of obesity by 30%.
Great In Desserts
Instead of adding any sweetener or processed sugar, you should add bananas. The great thing about them is that they can go with almost every dessert. Since you are staying away from the extra calories of Processed sugar and sweeteners, weight loss will become easy. 
Bananas Assist in Sleeping
Getting a good amount of sleep is super important if you want to lose weight. Studies have found that sleeping less than five hours is linked with weight gain.
A compound called Melatonin is found in bananas that is proven to be a Sleep booster. Moreover, proper sleeping helps you recharge yourself and improve your eating habits.
Bananas Aid in Workouts
A banana shake or smoothie made by adding honey and nuts is a great post-workout drink. This drink is rich in protein, fiber, Omega content, vitamins, and minerals that provide you energy to lift more.
Which Banana Should You Eat?
Green or unripe bananas are higher in resistant starch than the ripe ones. The other nutritional value is more or less the same. The resistant starch gets converted into sugars as the fruit ripens, so the calorie content increases a little, and the fruit gets sweeter.
If you want to lose weight, eating unripe bananas is preferable.
But let us break the news to you that bananas or any single food won't be enough to reduce weight alone and make your belly slimmer. Plus, eating naturally grown foods always takes time to cause any significant impact on weight.
If you want to fit into your old clothes sooner, then we suggest you go for Weight loss supplements.
Weight Loss Supplement
Regularly consuming Weight loss supplements is a super fast and effective way of burning fat. The problem is that there are lots of fraud brands in the market that claim to be safe but cause liver damage.
Don't worry; we are describing the best weight loss pill you can take to become leaner.
Exipure- A Blessing For Obese People
It is the newest edition in the world of weight loss supplements. Since its introduction in 2021, it has been making people's lives better by reducing obesity and improving heart health.
The positive Exipure reviews are the evidence that this supplement really does what it claims.
Want to know whether it is safe or not? Exipure is crafted using eight exotic ingredients that are also clinically proven to burn calories. These are:
Perilla
Quercetin
Holy Basil
Amur Cork bark
Kudzu
Propolis
White Korean Ginseng
Oleuropein
These ingredients promote the Brown Adipose tissue levels in the body. These tissues are known to convert fat cells into heat, so you will get slimmer rapidly. That is why you feel little heat after taking a pill, but that's not something to worry about. The heat is the indication that extra calories are being burned.
Take one pill a day for a few weeks to see the result. It is better if you take it with a glass of water after a meal. The manufacturer estimates that you will lose around 59 pounds shortly if you regularly take these pills.
That's not it! If you are not satisfied, you can cash a 180 money-back guarantee offer. But after reading Exipure customer reviews, it is safe to say that most people did not have to claim it.
So, we suggest you take every necessary and safe step to become slimmer and more active.
FAQs
Can bananas Make you gain weight?
If you make a habit of eating lots of bananas (say 4-5/ day), then weight gain is imminent. The calorie content in a single banana is 100-110. So, if you eat five bananas per day (500 calories), then you will become obese. Hence, eating moderately (not more than two bananas) is enough.
What happens if I overdose on weight loss supplements?
People think taking two pills instead of one leads to weight loss at a more rapid pace. It is partially true, but it also has negative effects on the body. Overdosing on weight loss supplements can overheat the body and damage the organs (especially the liver).
Final Words
All-inclusive, people often wonder how many bananas they can eat in a day to harness all the beneficial effects, including weight control. If you want to look slimmer, then you should have two bananas a day for weight loss. This fruit does not burn fat directly. It works indirectly by supporting such mechanisms that lead to weight loss. However., the pace is slow, and weight loss may take months.
If you want to lose weight rapidly, go for safe weight loss supplements like Exipure. No matter which process you follow, controlling weight is super vital to living healthily.