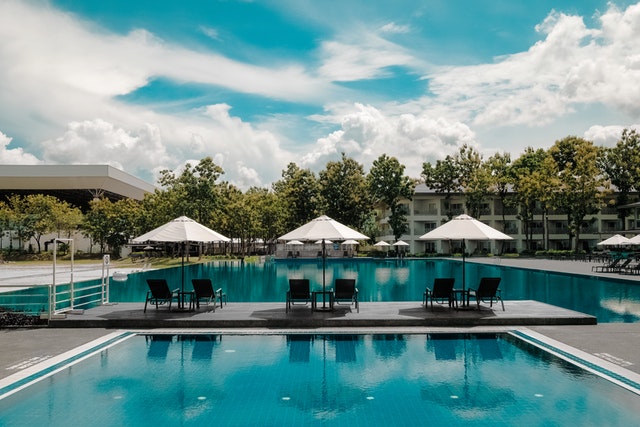 Travel
8 Amazing Affordable Hotels and Resorts to Book for Your Disney Trip
Disney is an incredible trip, but it is not for the budget-conscious. With adult passes for one day starting at $109 per day, with the option to upgrade your ticker with the park hopper option, the water park and sports option, or the Park Hopper Plus option. With the upgrades, your trip, especially if you go for more than one day at a time, can quickly start to add up.

The best way to stretch your budget is by saving on your accommodation. There are many ways that you can save on your accommodation, and one of the best ways to get started is to look into the great hotels and resorts outside of Disney World.
By booking a great resort that comes with its own water park and even full kitchen, you can save and stretch out the length of your vacation all at once. Spend a few days around the hotel, make your own meals, and enjoy easy and convenient access to Disney World and its affiliated parks to help you afford the vacation of your dreams.
Westgate Town Center & Villas Resort
Westgate Resorts has several resorts in and around Orlando that would make for excellent, affordable home bases during your vacation. One of the best options for those is Westgate Town Center Resort, which has many great amenities and includes the chance to book multi-room suites. One of the biggest draws to this great resort, however, is the on-site waterpark. Being able to cool down during your downtime is a must, and by being able to access the on-site waterpark on top of other great activities like volleyball or the games room will mean that your kids have many great ways to keep having fun. As for the adults? Take advantage of the on-site spa facilities and even consider booking a spa package to unwind and relax.
You will be in the heart of the action and be in a resort that offers it all, and the best part is that prices are affordable, allowing you to stretch out your holiday and enjoy some downtime in the beautiful Florida weather.
Source: Instagram, posted on May 27, 2022, Universal Orlando Hotel's Official Instagram
Loews Sapphire Falls Resort
This resort opened in 2016 and offered 1000 guest rooms and suites, four restaurants, and is pet friendly – a great option for the whole family!
Loews has many great resorts to its name in Orlando, but when it comes to affordable luxury that suits travelers of all types, its Sapphire Falls Resort should be your top pick. The resort itself is inspired by the Caribbean and comes with many great facilities like two sandy beach areas, pools, and a waterslide.

One of the biggest benefits of staying here is that you will receive Early Park Admission to The Wizarding World of Harry Potter, so you can get to the magic sooner and with fewer crowds. You will also be able to take advantage of a shuttle service to Universal Studios and Universal CityWalk as part of your resort fee.
Source: Instagram, posted on June 8, 2022, Avanti International Resort's Official Instagram
Avanti International Resort
This resort is perfect for those looking for an affordable and family-friendly hotel a short distance from Universal Studios and SeaWorld.
Avanti International Resort is located on the internationally-famed International Drive. This puts it a short 11-minute drive away from Universal Studios Orlando and SeaWorld. Here you will find clean and comfortable contemporary rooms and suites that have the top amenities, including Wi-Fi, flat-screen televisions, mini-fridges, and coffeemakers. Larger suites even come with jacuzzi tubs and great views of the pool.
Your resort fee will give you access to the waterfall pool and hot tub, as well as access to the arcade game room (great for kids!) and the fitness center and theme park shuttle service.
Source: Instagram, posted on March 15, 2022, Hyatt Regency Grand Cypress's Official Instagram
Hyatt Regency Grand Cypress
This resort is closely located in the theme parks. There are various family-friendly and kid-friendly activities on-site to enjoy.
The Hyatt Regency Grand Cypress has 815 guest rooms and various suites to suit families of all sizes. It is next door to Walt Disney World and offers top features like a book and several restaurants so that you can have a taste of amazing island cuisine as well as the typical American favorites.
This resort stands out in particular for families due to the variety of great family-friendly and kid-friendly activities available on the grounds. Camp Hyatt, a program designed for kids, is the perfect way to keep the kids busy while the parents enjoy some relaxing quality time together at the pool, spa, or restaurants. While attending Camp Hyatt, your kids will be able to go paddle boating, biking, and even rock climbing.
Source: Instagram, posted on September 29, 2020, Hilton Orlando Buena Vista Palace's Official Instagram
Hilton Orlando Buena Vista Palace
This beautiful resort received a full facelift back in 2016 and is now ready to welcome guests into newly renovated rooms.
The Hilton Orlando Buena Vista Palace is certainly not a newcomer to the scene, but thanks to a recent renovation back in 2016, it is now fully updated and ready to welcome you. The décor is striking, with dark woods and pops of blue, and it is perfectly located near Disney Springs. It is an official Walt Disney World Hotel, though it is not within the park itself. You can easily buy your theme park tickets online and get a shuttle directly to the front door of each Disney park. The shuttle runs every 30 minutes, making it easy to hop to and from the theme park to your resort.
The hotel even offers babysitting services so that parents can confidently take a few hours to themselves and try out the many luxurious spa services that the hotel offers to guests.
Source: Instagram, posted on November 4, 2019, Marriott Village Orlando's Official Instagram
SpringHill Suites by Marriott Orlando Lake Buena Vista
This resort offers suites for families and is within 15 minutes of all the top theme parks in Orlando.
SpringHill Suites is part of the Marriott Orlando Lake Buena Vista Village and is partnered with Courtyard and Fairfield Inn. You will find the SpringHill Suites by Marriott Orlando Lake Buena Vista just a mile from the I-4, a short 4.5 miles from SeaWorld, 6 miles away from Epcot, and 7 miles from Disney World's Magic Kingdom. This puts most of the top theme parks in the area within a 15-minute drive from your resort.
The resort itself has outdoor pools, cafes, on-site parking, a gym, and even a coin-operated laundry, so if you are saving by packing light, you can keep your clothes clean and refreshed right on-site.
As part of your room and resort rate, you will be able to enjoy a complimentary breakfast and also free shuttle services to many of the top theme parks and destinations in the area.
Source: Instagram, posted on March 4, 2022. B Hotel Resort & Spa's Official Instagram
B Hotel Resort & Spa
This is one of the most budget-friendly options and within easy distance to Disney Springs.
One of the most budget-friendly resorts on this list is B Hotel Resort & Spa. You can find this resort right at the door of Disney Springs and will delight in the contemporary, funky design that is notable for its all-white walls and holiday vibe.
The resort is notable in particular as the only AVEDA lifestyle spa in Orlando. Don't think you have to drop your kids off to get a spa treatment, however, as B Hotel Resort & Spa actually offers many great packages for teens and kids as well. Your teen can enjoy the AVEDA teen facial, and your kid can enjoy the AVEDA kid-friendly manicure.
The hotel has its own on-site restaurants, and if you are interested in saving by making meals in your hotel room, there are suite upgrades that come with their own kitchenettes.
Source: Instagram, posted on August 21, 2015. Drury Inn and Suites Orlando's Official Instagram
Drury Inn and Suites Orlando
This resort is famous for its giveaways and park partnership packages, which can make your whole trip better and more affordable.
Drury Inn and Suites Orlando offers everything you need for a comfortable stay and a fun vacation to the big theme parks in the area. What makes it, particularly of interest to those coming to Orlando on a budget is the many budget-friendly benefits that it offers. Stay up to date with their online social accounts, and you may be able to win a getaway vacation. Regardless of how you book, you will be able to enjoy complimentary breakfast and free soft drinks, beer, wine, and hot plates at the 5:30 Kickback. Kids can even enjoy free popcorn in the lobby between the hours of 3 pm and 10 pm.

Drury Inn and Suites is even an official Universal Hotel Partner, which means that you can buy park tickets in the lobby and also get a free shuttle to Universal Orlando Resort.