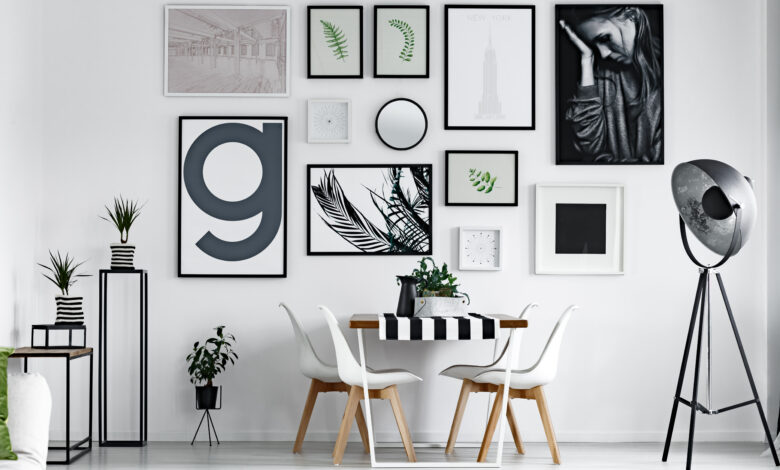 Choosing art pieces for your home is one thing, but displaying them tastefully is an entirely different challenge. Since you consider most of your prized possessions a creative way to showcase your style and personality, you want everything to be as perfect as it can be. After all, you probably spent not just money is acquiring them but your time and effort.
Before you pick up the hammer or start drilling holes on your wall, why not take a step back and think first of what you really want to do with your art collection? They deserve to be showcased in a way that would let their ingenuity stand out, and only you can make that happen. If you're still clueless on what to do, here are five pro tips for displaying wall art that gives justice to the masterpieces on your hands:
Experiment with sizes
Balance and proportion can be good when designing your home's interior appeal, but it doesn't mean it should also be the same case with your wall art. Variety is always a good idea if you want your project to be fresh and out of the box. For example, you can use an oversized mural canvas print as the focal point of your wall and then smaller pieces in different frame sizes. Luckily, you can get them from art exchanges such as Fine Art America or your local art dealers. You'll be surprised by how uniquely beautiful the result will be, especially if there's an assortment of colors, prints, and art styles. (1)
You can vary the size, shape, and orientation of the frames. You can decide on a particular color scheme or theme. But even when there's none, the wall can still look just as refreshing. All it takes is one look for guests to appreciate how creative your personality is. (1)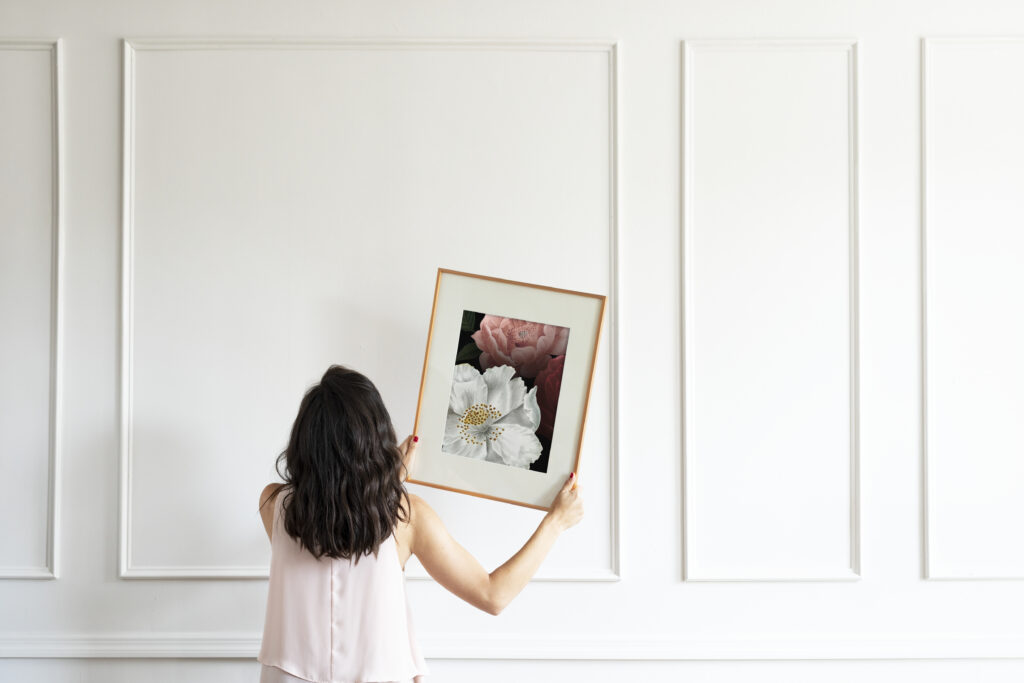 Craft a layout 
If you're new to displaying wall art, it can be pretty daunting to think of how you'll line up the frames, what pattern to follow, or which frame materials to use. The trick is to craft a layout first before you start hanging your art pieces. That way, you no longer need to rearrange and rehang in case you're not satisfied with the result. (2)
You can draw your layout using pencils and a piece of paper. You can also trace the frames using kraft paper and tape them to the wall to better visualize what the design will look like. Such a technique can save you time and effort and leaves almost no room for mistakes or miscalculations. (2)
Accentuate your open shelving 
You don't always need to drill holes so you can display wall art at home. If you try harder, you can think of other creative alternatives to spruce up the wall using art pieces without any need for nails and bolts. If you have open shelving already installed, you can accentuate it and add your art by simply leaning the frames against the wall. (3)
The kitchen is one perfect room in the house that can make this idea more interesting. Along with the frames, you can display wooden cutting boards and serving bowls to create a rustic but charming wall design. You can also put vases of fresh flowers or small indoor plants that'll add an aesthetic appeal to the space.
Add accent lights 
If you've been to art galleries and museums, there's surely one thing that's easily noticeable with the way art curators display their pieces, and it's through accent lighting. So if you think you're ready to elevate your wall style and you want something that not all homeowners have, consider adding this extra element that'll make your wall art glow and stand out without an effort. (2)
The best way is to install ceiling fixtures that you can easily mount. That way, the direction of light can focus on any particular artwork you like to highlight. On the flip side, if you wish to create a bright wall that lights up the whole space, wall washers might do the trick. The technique is more casual, which is why most contemporary collectors prefer it for lighting art. (2)
Measure first before adding from art pieces 
All art lovers can relate when you say it's tempting to buy and bring home anything you see in galleries that sparks your imaginative flair. However, before you do so, make sure there's still space to accommodate whatever you'll be adding to your collection. The best way to ensure this is by measuring the wall and comparing it to the size of what you're planning to buy. (2)
Planning is key to curating your wall art like a pro. You can't simply throw in all the frames in one corner and just let them be. Spacing out the frames is critical if you want your wall art to look meticulous and not overcrowded. When you have this component in mind, you can successfully create a visual balance that looks pleasing to the eye and can pass even the most scrutinizing judgment of a pro stylist. (4)
Final words
A well-curated wall art design is a joy to look at, for you as the homeowner and your guests. Now you can work on this project by taking note of the tips mentioned in this blog post. Don't let your stunning art pieces remain as just mere home decor—give them the highlight they deserve and start displaying them like a pro.
References