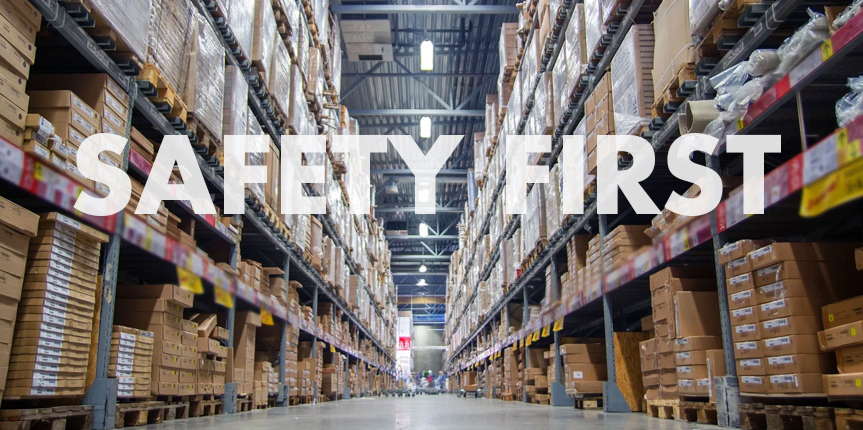 When you're busy running a warehouse, it can be easy for some things to fall by the wayside, however, warehouse safety should always be high on the agenda.
Strict deadlines and peak operating periods can make us lose track of safety standards, but keeping your warehouse staff safe should always be the number one priority.
The work environment of a warehouse can be filled with potential safety hazards. The operation of heavy machinery and the handling of dangerous materials are just two tasks that require strict safety measures. As the nature of your warehouse operations changes, it's essential to make sure your safety procedures evolve with them.
Follow our safety tips, and you can drastically improve the safety of your warehouse. 
Use technology to automate tasks
Thanks to advances in technology, warehouse tasks don't have to be so physically strenuous for workers. Automated technology helps to eliminate much of the risk associated with moving heavy objects.
Automated storage and retrieval systems are just one of the latest options for reducing hazards in the warehouse. These systems are capable of picking, sorting, and arranging goods without the need for physical exertion from your employees.
Automated systems can help eliminate the risk of human error or injury during everyday tasks such as order picking. With more tasks being taken over by automated systems, you can also benefit from investing less in training your staff for certain tasks. With less time invested in training, your senior staff can dedicate more time fine tuning your warehouse operations.
Identify red flags early
No matter how strict you are with safety procedures, near-misses can happen in the workplace. What's really important is how you assess and rectify them.
Does your warehouse have a logbook for minor incidents and near misses? Recording any close calls can provide your management team and safety team with a clearer picture of the potential dangers of your workplace environment.
With accurate information recorded, you can identify any issues and start taking preventative action. An employee might slip on a work surface and receive only minor cuts or bruises. If an incident like this is recorded, then your team can take the action of adding further signage or installing a surface with more grip to prevent future slips.
A logbook is a perfect example of an incident management system that can effectively improve safety standards. Use management systems like this to identify unsafe trends and create preventative actions moving forward.
Prioritise proper training
Staff safety training is another effective tactic for injury prevention in the workplace. When your staff have the skills and knowledge to carry out tasks safely, there's far less chance of an incident occurring. That's why regular safety training is vital for any workplace. No matter how experienced your staff are, safety training should take place on a regular basis.
Prioritise teaching your warehouse staff to lift objects correctly, and you'll reduce the risk of manual handling incidents. When staff members recognise the right way to lift an object, there's far less chance of them sustaining back or joint injuries. Your safety training program should also focus on teaching your staff to identify the right type of manual lift movements for different situations. Some objects may require a two-person lift or a pallet jack for safe lifting.
For all staff using heavy machinery, they must be taught how to operate them safely. Machinery such as forklift trucks always have specific guidelines for how heavy loads can be.
Another important aspect of safety training is teaching your staff to communicate potential safety hazards. Slippery surfaces, broken pallets, and damaged racking need to be identified and reported before they cause any serious incidents. First aid training is also an important aspect of keeping your warehouse as safe as it can be. Investing in proper first aid training from London First Aid Courses will teach your personnel how to respond to any health emergency that occurs inside and outside your warehouse.
Ensure equipment and safety facilities are up to standard
Every industry in Australia has strict safety standards in place that all workplaces must follow. These safety standards ensure your employees can work in a safe environment free of hazards. Look at the safety standards for warehouses, and you'll find a number of guidelines in place to ensure your equipment and safety facilities are up to standard.
To keep your workplace up to safety standards, warehouse equipment and vehicles should be maintained correctly. Everyday equipment like pallet jacks, forklifts, and battery chargers should be inspected regularly to ensure they are safe to operate. A qualified safety professional such as an OHS manager can carry out safety audits to ensure your equipment is inspected and maintained.
The following list of items are just some examples of safety equipment you should check on a regular basis:
Ladders
Safety steps
Fire extinguishers
Scissor lifts
Operating machinery like forklifts, order pickers, stackers
All safety facilities should be maintained to boost your warehouse's safety. Lighting, fire alarms, and even the lane markings on your warehouse floor are all essential items that should be checked on a regular basis. Make all facilities and equipment part of your warehouse safety checklist. So whenever an item in your safety checklist isn't up to standard, they will be identified as a hazard and fixed straight away.
Additional items to consider for your facility include:
Fire sprinklers
Exit signs
Racking
Stair railing
Floor grips
Set your warehouse up for success
With a strict set of guidelines in place, you can rest assured your warehouse will continue to be a safe workplace. It takes a commitment from everyone in your workplace to ensure your warehouse remains incident and injury-free. Regular training and audits are also vital to maintain safety standards.
When everyone is on the same page with warehouse safety, you'll be amazed by the improvements that can be made. If you have any concerns about your warehouse safety, take an audit of everything. Don't be afraid to get everyone involved in the conversation about warehouse safety. With the right safety measures in place, you'll set up your warehouse to be a friendly, productive, and most importantly, safe place to work.
Visit Jungheinrich and discover a range of intralogistics solutions available.