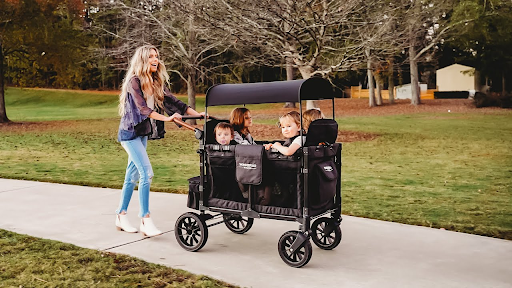 If your baby is 6month old, or you have more than one kid at home, then it may be the perfect time to switch to a stroller wagon. A stroller wagon is a combination of a kid's wagon and a traditional stroller, equipped with advanced features that provide great convenience to the parents and make outdoor rides joyful for the kids.
Why do you need Stroller Wagon?
When the kid grows up, his body develops as well. Over time they can get very uncomfortable in strollers no matter what type of stroller you're using. Or, in case you've more than one kid, managing a bulky double stroller or multiple strollers at a time just add up to troubles.
Here, you can make your life easier by replacing the stroller with the Wonderfold stroller wagon. These wagons make the whole parenting gig much easier. Taking your kids on walks or the beach becomes joyful with stroller wagons. That said, here are some of the reasons that will surely make your mind to replace the old stroller with a stroller wagon. 
1. No more worrying about kids nap 
Unlike traditional strollers, a stroller wagon provides the kid more space to spread out his legs and sleep whenever he wants. The Wonderfold Baby X4 Pull and Push Quad Stroller Wagon that you can get for $469 only is equipped with padded seats that can be reclined.
So, when you're out with the kids during nap time, you can just flip down the seats to make a flat base where your kids stretch out their legs and sleep peacefully. 
2. Multiple kids in one stroller wagon
If you've multiple kids in a family, that doesn't mean both parents have to handle multiple strollers while going out. Instead, you can use a Quad stroller wagon that can hold up to 4 kids.
For example, a W4 Luxe Quad Stroller Wagon can hold up to 4 passengers with a huge weight capacity of 300 lbs. That means you can also load it with all the essential items for you and the kids while going out without having to carry extra bags. 
3. Folds Flat
 A double or full size stroller takes a lot of trunk space when you're travelling and leaves less space for keeping other things. In contrast, a stroller wagon folds flat with one hand fold/unfold feature and takes up less space. 
4. Can handle rough paths
A traditional stroller works well on the road and flat surfaces. However, If you like to take your kids to places with grassy patches and rocky patches, you should get a stroller wagon for it. All stroller wagon models by WonderFold are designed to handle off-roading.
For example, you can bring Wonderfold Baby X4 Pull And Push Quad Stroller Wagon to the beach, the nature trail or wherever your family adventures take you. Its telescopic pull handle with spring bounce technology makes it easy to pull it and reduce the movement of the wagon.
So, while you're riding on rough terrain, your kids can sit comfortably in the stroller wagon and enjoy the views. 
5. It's more than just a stroller
A stroller wagon has a huge capacity where you can tote all your belongings along with the kids' toys—going to the beach? Bring a hotspot and cooler with food and drinks for the whole family.
There are two varieties in stroller wagons, double stroller wagon and quad stroller wagon with the capacity to hold two and four passengers, respectively. So, in case you don't have all four kids, you can also utilize sitting compartment space. 
6. Sun Protection 
Wonderfold stroller wagon canopies are removable that can cover the entire unit and save the kids from direct sunlight, unlike a regular stroller that covers them partially.
In addition, the wonderfold stroller wagons are equipped with UPF rated canopies that protect the child from harmful UV rays of the sunlight. If you're going out in pleasant weather, you can simply remove the canopy. 
7. More Safety 
Stroller wagons are equipped with removable seat pads with 5 point harness safety that provides maximum support to the kids when you're riding the stroller outside. The majority of the regular stroller model has only 3 point harness safety features that make the stroller wagons safer than the strollers. 
8. Extra Features 
Stroller wagons have more features as compared to a normal baby stroller. The W4 Luxe Quad Stroller Wagon by WonderFold has removable fabric for easy cleaning and removable reclining seats with a five-point automatic magnetic harness.
In addition to that, their 1-step braking system allows the parent to stop the stroller wagon easily. You also get a front zipper door for easy access that means the kids can self-board as well. Furthermore, there are all-terrain wheels with a huge wagon weight capacity of 300lbs. 
The Final Verdict 
So, it's time to say goodbye to the old stroller and welcome a new wonderfold stroller wagon to your home. We hope this article has helped you to understand the functionality of stroller wagons.
Read also: Just-because Gifts That Are Sure To Put A Smile On your loved ones face