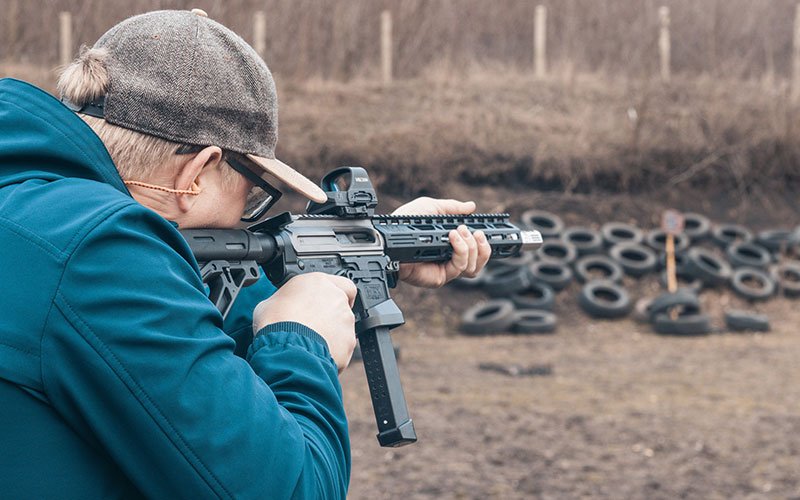 In the world of carbines, there are some reviewers that have given the Hi Point 995 some bad press, but we think that they're being quite unfair. That's because when you look at it more closely – and at the price point – it soon becomes evident what a superb option it is. 
Honestly, if you're spending less than $400, we struggle to think of another option that offers what this beauty does. To illustrate what we mean to those unfamiliar with this Hi Point carbine, let's take a look at some of its winning features.
The Hi Point 995 Is Virtually Indestructible
We admit that at first glance, this carbine does look slightly cheaply made, but appearances – in this case – are most definitely deceiving. The truth is that the 995 is made out of a space-age material known as 'Z-Mac', which interestingly is the same material you'll find being used on the space shuttle.
This makes the carbine super-tough and, dare we say it, pretty indestructible. You can drop it, bang it and fire clip after clip down at the range and this underrated weapon will keep on going. 
After testing it fully, we had almost no stoppages at all. Those that we did have were more to do with user error and not seating the rounds properly before pushing in the clip. 
A Feature-Laden Carbine 
It's easy to see just how much thought has been put into the 995 by the Hi Point engineers. For instance, you've got a spring-loaded recoil pad, which greatly reduces the kick you get in the shoulder. Then there's the sling swivel and the 1913 rail that's great for adding magnified optic/red dot sights.
There's also a picatinny rail underneath the weapon, which means you can add vertical grip for more control. The Hi Point 995 even has a picatinny rail on the end of the barrel itself, allowing you to attach a light if you want to. 
Easy Repairs & Replacements
Another brilliant feature of this Hi Point carbine is the fact that pretty much every one of its parts is attached using high grade bolts – which can be sourced from your local hardware store. This makes repairing and replacing components so much easier. 
The 995 also features a sturdy polymer trigger, a comfortably-placed charging handle/safety and a Hi Point-sanctioned 'Extendo-clip' that gives you as many as 40 rounds without having to reload.
It's a Great Weapon – Don't Let Anyone Tell You Otherwise!
So, if you've heard some iffy things about the Hi Point 995, we urge you to pay no attention to them, as we think they're wide of the mark. It's simply packed with the kinds of features that make using it easy and more than a little satisfying. 
What's more, it's available for what is a really great price. In fact, we'd say that in the carbine field, there's no better choice in this price range. Food for though we think you'd agree.
What you should take away from reading this blog is that you should never discount any option like this without trying it first. We tried it and loved it! 
Maybe you can too?