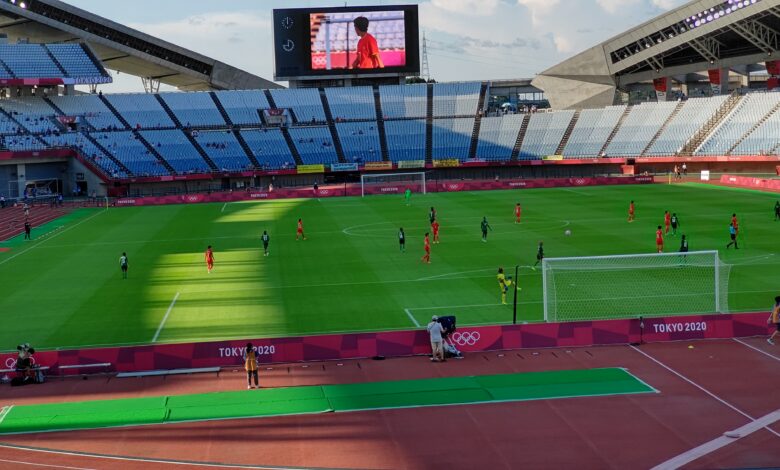 Sports
Olympic Games Tokyo 2020: China vs Zambia Full Match Highlights
China vs Zambia Full Match Highlights – In this match of women's football Olympic Games Tokyo 2020 China and Zambia teams were face to face. This match was being played in Miyagi Stadium. This stadium is located in the town of Rifu in Miyagi Prefecture, Japan.
Confronto direto China – Zâmbia
👉https://t.co/TqnyDrCq5K
🇨🇳🇿🇲@CHNWNT @FAZFootball @Olympics #CHN #ZAM #CHNZAM #ZAMCHN #OlympicFootball #Olympics2021 pic.twitter.com/m6rlvGTVHi

— Arquivo dos Mundiais (@arqdosmundiais) July 24, 2021
You may also love to watch – Women's Football Chile vs Canada Full Match Highlights
First Half China 3-2 Zambia
In the first half, both the teams gave equal competition. No team was less than anyone. A total of 5 goals were scored in the first half. S. Wang scored a hat-trick in this game from China's side. She scored in 7th, 22nd and 23rd minutes.
On the other hand, the team of Zambia scored 2 goals in the first half. In the 15th minute, R. Kundananji scored the first goal for her team. Zambia received golden opportunity in the form of a penalty in the 42nd minute. B. Banda took full advantage of this opportunity. And scored the second goal for her team.
At the end of the first half the score was 3-2.
Second Half China 4-4 Zambia
The story of the second half also remained exactly the same as the first half. Both the teams were showing full enthusiasm to win this game. B. Banda scored in the 47th and 69th minutes to lead her team 4-3 in the game.
21-year-old Barbra Banda has scored back-to-back hat-tricks in Zambia's first-ever matches at the Olympic Games 🇿🇲

No other women's player has EVER scored two hat-tricks at one Olympics 👏 pic.twitter.com/MVv4gdkq5T

— Goal (@goal) July 24, 2021
China's S. Wang was in full form today. She took full advantage of the penalty in the 83rd minute and scored the fourth goal for her team. This goal put China in a 4-4 draw in this game.
It's 4-4!

4 goals for Wang.

The Golden boot challenge is hotting up. #Tokyo2020 #football #CHN #ZAM

— Remy Cee 💙 (@RemyCee) July 24, 2021
Olympic Games Tokyo 2020: China vs Zambia Full Match Highlights
This thrilling game ended at 4-4 draw without any result.