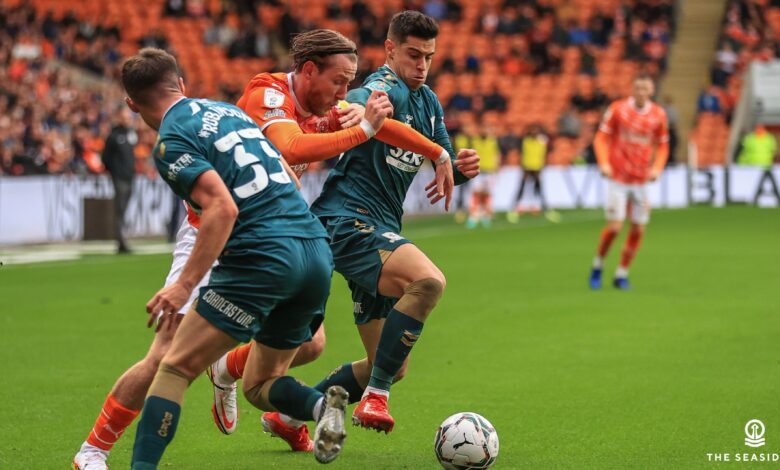 Sports
Blackpool vs Middlesbrough Full Match Highlights: Carabao Cup – EFL
Blackpool vs Middlesbrough Full Match Highlights – In this Match of Carabao Cup, Blackpool and Middlesbrough teams were face to face. This match was being played in Bloomfield Road Stadium. This stadium is located in Seasiders Way, Blackpool FY1 6JX, United Kingdom.
🔴 MATCHDAY 🔴

Cup tie at the seaside 🏖🏆 #UTB pic.twitter.com/DjS0dJuqwc

— Middlesbrough FC (@Boro) August 11, 2021
You may also love to watch – Oldham Athletic vs Tranmere Full Match Highlights
First Half Blackpool 1-0 Middlesbrough
Blackpool's team made a strong start in this half. The team of Blackpool dominated this match from the very beginning. He continued to attack Middlesbrough's goal.
Then Callum Connolly got a chance to score in the 31st minute, he scored without wasting this opportunity and gave his team a 1-0 lead in this match.
HT | Blackpool 1 Middlesbrough 0

Callum Connolly's stunning strike the difference so far.

🍊 #UTMP | @smithshire pic.twitter.com/4OKAkDnk1i

— Blackpool FC (@BlackpoolFC) August 11, 2021
In this half, the Blackpool team continued to hit the goal of Middlesbrough but he failed to score any other goal. And this half ended on the score of 1-0.
Second Half Blackpool 3-0 Middlesbrough
Even in this half, Blackpool's team maintained its dominance in this match. In this half too, Blackpool's team played an attacking game.
Shayne Lavery scored in the 77th minute to put his team ahead 2-0.
77' – HE'S SHAYNE LAVERY!!!!

🍊 #UTMP | 2-0 pic.twitter.com/QdIZ8eTaXK

— Blackpool FC (@BlackpoolFC) August 11, 2021
The Middlesbrough team was just emerging from this goal that Keshi Anderson scored another goal in the next minute and gave his team a 3-0 lead.
78' – KESHI!!!!!!

🍊 #UTMP | 3-0 pic.twitter.com/M7iC77VDZ3

— Blackpool FC (@BlackpoolFC) August 11, 2021
This goal also ensured the victory of Blackpool in this match. Middlesbrough tried really hard to made a comeback but they were unable to do so and Blackpool won this match.
Blackpool vs Middlesbrough Full Match Highlights: Carabao Cup – EFL
Blackpool won this match easily by defeating Middlesbrough by 3-0.