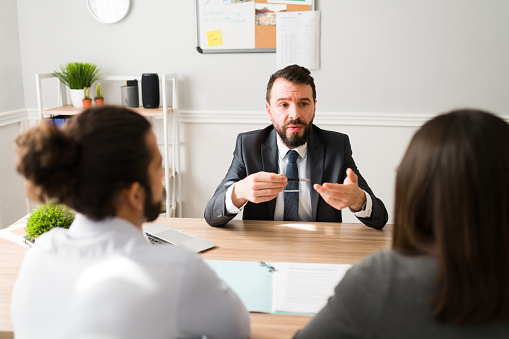 In recent years, we've seen the divorce rate hit a new low. Still, for every 1,000 marriages in the country, just under 15 will come to an end.
Nothing truly prepares us for something like a divorce. After all, you got married thinking it would be a life-long commitment. Now that you want or need to get out of your marriage, you probably don't know where to start.
We're here to shed light on the first steps to divorce. Our goal is to make divorce preparations easier so that you can focus on your needs and family obligations during this tough time.
Read on as we talk about the eight first steps to take to get a divorce.
1. Hire a Divorce Lawyer
Before you get started, we recommend searching "divorce lawyers near me." Even if you believe that your spouse won't contest the divorce, there is a lot of paperwork to sift through and at the very least, you're going to want someone to advise you throughout the process. Plus, many couples who assume they will divorce amicably discover that they don't see eye to eye on things like separating assets, child custody, and more.
2. Get the Facts About Finances and Assets
One of the most time-consuming parts of a divorce is separating assets and setting up alimony. The more that you know in advance about the state of your finances and assets, the better positioned you will be.
If you don't already have your own line of credit, now is the time to get one. Start a bank account of your own and get set up with a credit card. This is all part of the process of moving away from joint accounts and other shared assets.
3. Make Some Important Decisions
Will one of you move out before the divorce is finalized and if so, who will stay in your current home? Do you have children who need to be informed of the upcoming change? Do you need additional protections for your safety before you file for divorce?
Every divorce is different. Some couples are able to file for divorce together and tackle the next steps without legal intervention. Talk to your divorce or family lawyer about what to do at this juncture.
4. Prepare Your Divorce Petition
The next step is preparing your divorce petition (aka divorce application or complaint). In your petition, you will need to state the names of any immediate family members, what you want from the divorce (ie child custody, alimony, and property), and the grounds for your divorce. Typically, the reason can be summed up as "irreconcilable differences," although some states still allow you to list fault-based reasons such as adultery or abandonment.
5. Serve and File Your Divorce Forms
Before you can file for divorce with the court, you must serve your spouse with divorce papers, sometimes referred to as a summons. You cannot serve your spouse, yourself. We recommend working with a process server, but anyone who is 18 or older and not related to you can fulfill this step.
Once your spouse has been served, you can file your divorce papers with the court. Whoever served your spouse must also file paperwork, which is one of the primary reasons that we suggest working with a process server. This paperwork is very specific and may confuse people who are unfamiliar with divorce law.
6. File for Temporary Divorce Orders
If your spouse does not see eye to eye with you on things like financial support and childcare, you may need to file for temporary divorce orders. Temporary divorce orders are issued by the court and outline a temporary agreement between you and your spouse.
If your spouse is working with you to ensure your safety and well-being as well as the safety and well-being of your children, you can skip this step. The purpose of temporary divorce orders is to create a legal contract that both parties must uphold or face consequences.
7. Go Through Divorce Mediation
For many couples, mediation is the final step in a divorce. Mediation refers to the process of coming to a final agreement about post-divorce conditions, including things like child custody, asset division, alimony, and more.
First, you will undergo the discovery process. If neither party contests the divorce, discovery will go smoothly. The purpose is to gather information about both parties to make an informed decision about post-divorce conditions.
Once the discovery process is complete, both parties and their lawyers will come together to reach a legally binding agreement.
8. Head to Divorce Court If All Else Fails
What happens if you and your spouse can't reach an agreement during divorce mediation? At this stage, you will have to go to divorce court. Everything that came up in the discovery process will be presented to a judge, as well as the conditions both parties are pushing for.
Going to divorce court does not increase the chances that you will get "more" out of the divorce. You should only go to divorce court if there is no way to reach an agreement, otherwise. Remember, once you're in divorce court, the judge will make the final decision about your divorce agreement.
Follow These First Steps to Divorce to Begin Life Anew
Despite the drop in divorce rates, there are still married couples who are considering divorce and don't know where to begin. With this guide, you can navigate the first steps to divorce without all of the confusion. At the end of the day, the best advice we have to offer is that you hire a divorce lawyer as soon as possible.
Looking for more legal advice? Take a look at our law section to learn more about family law, financial law, and beyond.